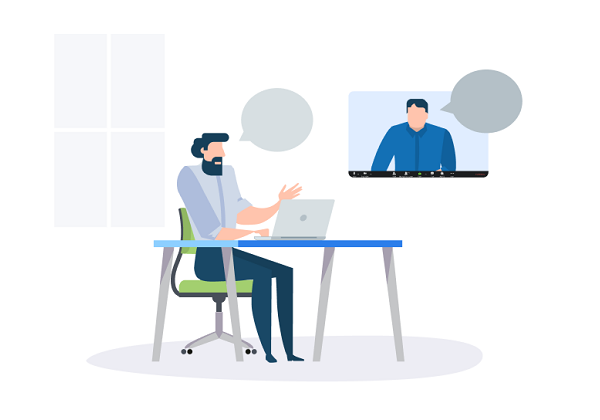 As the U-M community adjusts to the COVID-19 pandemic, many people are working from home and connecting online with colleagues, often for the first time. Information and Technology Services (ITS) responded with urgency to help students, faculty, and staff host lectures, access university resources, collaborate with colleagues, and continue to support the university from home.
Strong networks
In preparation for remote instruction, ITS upgraded the VPN (Virtual Private Network) service, added IP addresses to handle higher demand, and increased link speed from 2 Gbps to 20 Gbps. ITS also enhanced VPN documentation to assist those unfamiliar with the technology.
Aware that some staff do not have adequate networking capabilities at home, ITS augmented existing work zones outside of Arbor Lakes and also added strong WiFi coverage near Hubbard in the southwest corner of parking lot NC90.
ITS continues to monitor our Comcast connection and remains ready to enhance it if necessary. For the curious, our 10 Gbps Comcast connection has gone from a typical daily utilization of 5% to 25%.
Remote resources
ITS quickly launched a Remote Resource Guide to provide easy access to technology resources for teaching, learning, and working remotely. With more than 12,600 users since its launch on March 9, the site is continuously updated with new information. The guide also has online training opportunities and a section on Community & Well-being, which highlights ways to stay connected while practicing social distancing.
Serving customers
The ITS Service Center jumped into action to support campus as they adjusted to teaching, learning, and working remotely. The team addressed 3,744 support requests March 12-19, compared with 3,526 contacts for September 3-10, ITS's usual peak for the year. The team also added an average of three support hours each week day as well as Saturdays, and staffed the first-ever activation of the U-M Emergency Call Center to answer questions about the university's response to COVID-19. (Here are answers to the top three questions the ITS Service Center heard last week.)
This work took place while staff transitioned to working from home. ITS deployed equipment to Service Center staff that enabled them to provide support remotely with no impact to customers. ITS also assisted other units set up soft phones, which allow them to provide support functions from remote locations.
Videoconferencing growth
Videoconferencing has become the new norm across the institution and has grown exponentially. ITS manages several key services: BlueJeans use has exploded to 13 times the daily average. Zoom rolled out to campus in record time, and Zoom for Health allows HIPAA-aligned videoconferencing. Use of Hangouts Meet has also increased greatly as Google extended premium features that benefit campus.
ITS also created a Remote Office Hours Queue for BlueJeans to help instructors manage remote contact with students. Still a work in progress, ITS continues to improve the service and is working to add the ability to share office hour queues with instructional teams. Learn more about Remote Office Hours Queue.
Administrative systems
ITS's Student Administration team quickly shifted priorities to support the many academic policy changes announced by the university. The team converted about 200,000 student enrollment records, created a self-service page for students to change their grading basis, changed transcripts to reflect new grading policies, issued housing refunds to students who moved out of the residence halls, and altered the registration process for online new student orientation.
The eResearch Regulatory Management and Proposal Management teams supported changes in research activities related to COVID-19 and completed a grants.gov update to support new federal forms for NIH proposal submissions.
Direct-to-home shipping of IT products
On March 24, ITS announced a partnership with Procurement Services to expand direct shipping to home addresses when ordering with a departmental shortcode. This offer applies to Apple, CDW-G, and B&H Photo, which covers a majority of university IT needs. MiWorkspace customers can follow their unit's normal technology equipment ordering procedure, while non-MiWorkspace customers can follow the instructions on the new Computer Showcase direct ship web page.