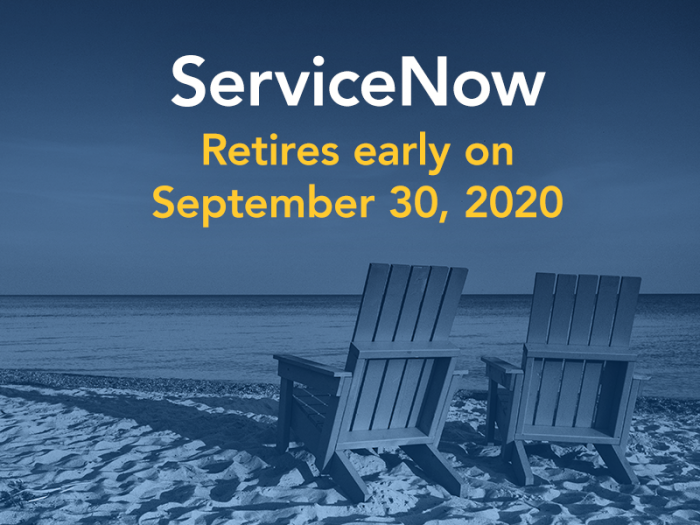 Previously targeted to retire at the end of the year, the campus contract for ServiceNow, an IT service management tool, will end early on September 30, 2020, to avoid significant licensing costs. This retirement does not impact the Michigan Medicine instance of ServiceNow.

Last fall, ITS kicked off a major project to deliver on its commitment to laser-focused customer service by replacing ServiceNow with TeamDynamix and optimizing its supporting business processes. TeamDynamix provides flexible general ticketing and work tracking capabilities.
ITS made the switch to TeamDynamix in May. ITS worked with units who used ServiceNow to make the change to the new service throughout the summer. Currently, College of LSA Technology Services, Shared Services Center, School of Education, School for Environment and Sustainability, Student Life, and Facilities and Operations Information Systems are now using TeamDynamix. The success of those efforts presented the opportunity to conserve university resources by stepping away from ServiceNow three months early.

The ITS-supported instance of ServiceNow will become read-only on September 4 in preparation for retirement. In-application reporting will continue through September 29. The cloud application will no longer be accessible on September 30. Historical ticket and knowledge data dating back to 2013 will be archived in a viewer tool.
Offering TeamDynamix to campus
ITS expects to offer TeamDynamix as a service to additional campus units in 2021. The U-M agreement with TeamDynamix provides for unlimited, enterprise licensing and robust multi-tenant capabilities. Under this model, ITS pays for enterprise user licenses and is the global administrator for the service. Units with simple ticket tracking needs may join the ITS-managed ticketing application. Units that need more advanced capabilities may set up their own self-administered tenant in TeamDynamix.