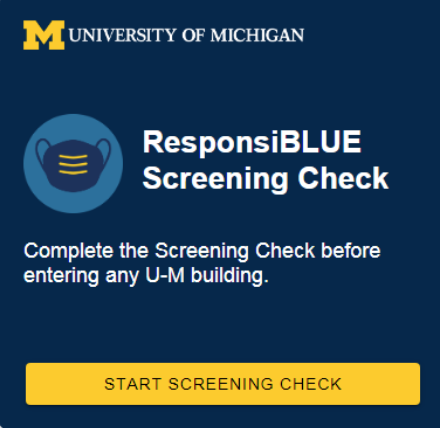 The University of Michigan recently launched the accessible, mobile-friendly website ResponsiBLUE (responsiblue.umich.edu) to help keep university community members healthy and reduce the spread of COVID-19. A downloadable mobile app for both Android and Apple platforms is in development and will be available soon.
All faculty, staff and students entering U-M buildings are required to use ResponsiBLUE to meet state regulatory requirements for health screening. Those working or studying remotely may use ResponsiBLUE as part of a daily health-check routine, but are not required to use it. Visitors and vendors on campus will need to use the guest version of the tool (guest.responsiblue.umich.edu). The aggregated data gathered will provide useful information about the overall health of the U-M community.
ResponsiBLUE meets the state of Michigan regulatory requirements for health screening. The daily health tracker still needs to be used in concert with university policy regarding the use of face coverings, maintaining social distancing, practicing frequent handwashing, avoiding large gatherings, and staying home when sick.
Information collected by the screening tool will be managed by Information and Technology Services in accordance with the university's privacy policy. Details can be found on the ITS ResponsiBLUE website.
The tool will be updated and enhanced over time to include additional features that assist the community in making health-informed choices to help keep the U-M community as safe as possible during the pandemic.
Read the August 18, 2020, University Record article for more information and comments from Ravi Pendse, vice president for information technology and chief information officer, and Robert Ernst, associate vice president for student life and executive director of University Health Service.