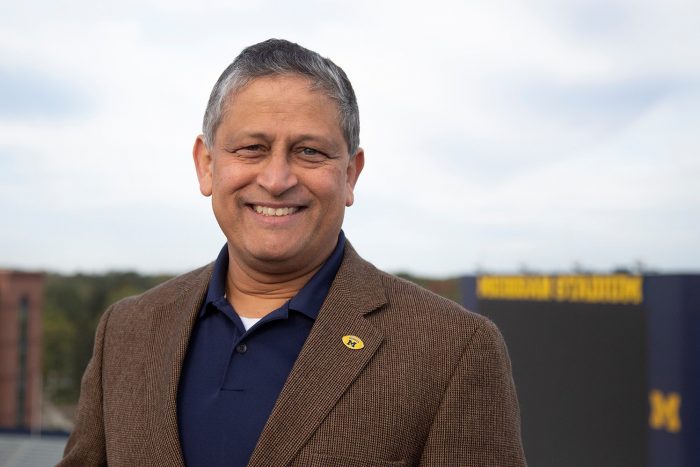 Greetings, everyone. I hope you are having a wonderful day.
The energy and innovation at the Michigan IT Symposium is outstanding. I appreciate the ways in which our Michigan IT community comes together each year with the shared purpose of supporting one another and the university.
I hope you had the opportunity to attend the leadership conversation about diversity, equity, and inclusion and the keynote session with President Schlissel. The topics at these two sessions are at the heart of what we do in the Michigan IT community. As technologists, we have a unique and fundamental role in creating environments that are inclusive and directly support the diversity here at U-M, the nation, and beyond. We know this role will only become more vital as technology increases in our lives.
My remarks near the end of the keynote session were accidentally cut off, so I want to take this opportunity to thank everyone once again for participating in this week's event, getting involved, asking questions, and learning something new. If you were not able to attend the session live, a recording of the session is now available.
A couple weeks ago, I met with the Faculty Senate Assembly's Information Technology Committee (ITC), which is a group that advises and consults with me on topics of relevance to the impact and use of information technology at the university. As a group we discussed the Senate's priority areas in technology — which notably included identifying populations on campus that need more IT support, and increasing the accessibility of our IT tools, among several other areas. I couldn't agree more, and I know many in our community share the same thoughts. I am looking forward to having continued engagement with this group and involving the community as appropriate.
As we enter winter break, I hope you join me in reflection of the achievements, obstacles overcome, and contributions that were accomplished over the past year as we worked as a collaborative, Michigan IT community. All of that hard work and dedication adds up, and it is an amazing feeling to appreciate. It is on display this week at the symposium, and visible to our students, faculty and staff daily. I am so grateful for each and every member of this community.
Finally, as promised during my remarks at the Michigan IT Symposium keynote, I'd like to share this short message about some not-so-typical holiday tech tips from ITS. We hope it adds a little levity to this busy time preparing for the break.
As our panelists reflected in the DEI and Technology panel, I encourage you all to extend grace to yourselves and happiness for each other. Make sure you take good care of yourself and reach out to a colleague or friend, because a simple "Hello" from you might make someone else's day.
I wish you and your loved ones a peaceful and healthy holiday season.
With gratitude,
Ravi
Ravi Pendse PhD
Vice President for Information Technology and Chief Information Officer
University of Michigan
rpendse@umich.edu