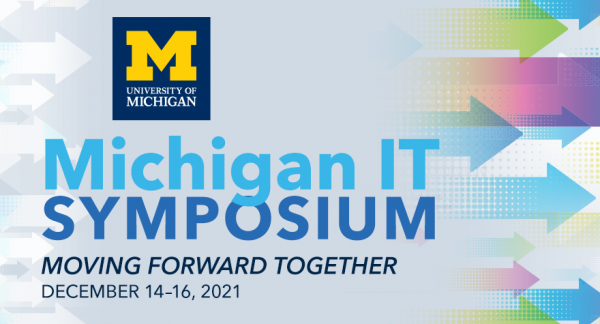 More than 450 people joined technology leaders to hear how the University of Michigan is "Moving Forward Together" at the Michigan IT Symposium on Tuesday, December 14.
The annual Michigan IT Symposium provides three days of interactive, virtual sessions to create connections between community members and dig deeper into more technical topics, while showcasing the innovation occurring across all U-M campuses.
President Mark Schlissel shared his thoughts on how U-M has led in technology accessibility during the Covid-19 pandemic during his keynote address on Tuesday.
"Access to information is critical for equity," Schlissel said. "Ensuring equity and access to technology resources and network communications is a really strong component of the DEI work we do. It's a critical enabler of almost all of our activities."
Diversity, equity, and inclusion (DEI) leaders from across the Michigan IT community, in an earlier leadership panel discussion, emphasized the ways that technology influences DEI efforts on campus.
The panel featured Phil Deaton, digital information accessibility coordinator for the Equity, Civil Rights, and Title IX Office; Ryan Henyard, learning experience designer for diversity, equity, inclusion & justice for the Center for Academic Innovation; and Diane Jones, executive director of ITS Administration and the Office of the Vice President for IT and CIO.
"Unity and diversity is our strength," said Pendse, kicking off the discussion. "We all share a passion for supporting the U-M community through IT. What can we learn from each other, what voices do we need to amplify?"
The panelists shared techniques to be more inclusive in their work, opportunities for technology projects to be drivers for positive change, and obstacles the university community can work to overcome.
If you were not able to watch the session live, recordings of the keynote and technology & DEI panel discussion are now available.
It's not too late to register!
Two more days remain in the Michigan IT Symposium. Both days have poster sessions at 11 a.m., as well as Jackbox party games to have some fun during lunch at 12:30 p.m.
On Wednesday, join the spotlight event about Data Citizenship. Find out, when it comes to the data we own and manage, what our roles and responsibilities as a data steward are, and as a data consumer, how we manage our individual data needs with the needs of the larger university and more.
After that, visit the Communities of Practice open house and check out breakout sessions that cover topics from hardware, software, infrastructure, and equity to recreating the Diag for social virtual reality.
Thursday will wrap up the Michigan IT Symposium with the spotlight event: "How Four Academic CIOs Move IT Forward Together," featuring Cassandra Callaghan, CIO, School of Dentistry; Cathleen Curley, CIO, LSA; Kerry Flynn, CIO, Ross School of Business; and Carrie Shumaker, CIO, UM-Dearborn.
After breakout sessions, join Ravi Pendse, U-M Vice President for Information Technology and Chief Information Officer, for the event's closing remarks.
Schedule your sessions and add the Zoom meetings to your calendar by registering today.