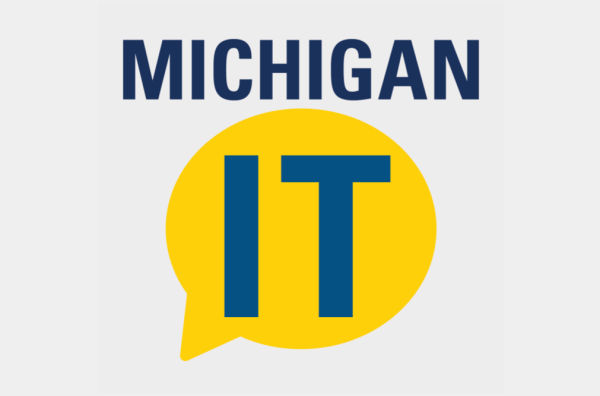 There is a new workspace on Slack that is specifically for members of the Michigan IT community: the Michigan IT Slack workspace.
Within the workspace, members can find and easily connect with IT colleagues across the university, join or create public and private channels on IT-related topics, participate in a community of practice, and more.
The Michigan IT workspace was introduced to communities of practice in early December, and is now available to anyone in the university community with an interest in technology.
The Michigan IT Slack workspace is intended for informal networking and information-sharing. The workspace does not replace formal service or support-related questions, which should continue to be directed to the appropriate team or helpdesk.
How to join
To join the Michigan IT Slack workspace, you must have a U-M Slack account and be a member of the michigan-it-slack MCommunity group.
The michigan-it-slack MCommunity group has been pre-populated with all members of Michigan IT communities of practice and recipients of the Michigan IT newsletter with a umich email address. New members can self-subscribe to the list and existing members can unsubscribe from the list based on their preferences.
From a web browser: Visit slack.umich.edu to add the workspace. Find the Michigan IT Workspace and select "Launch in Slack."
From the Slack application: Click the "+" in the left navigation of Slack to add a new workspace. Select "Find more University of Michigan workspaces" and select "Open" next to the Michigan IT workspace.
NOTE: If you do not see the Michigan IT Workspace as an option in Slack, you will need to join the michigan-it-slack MCommunity group using your @umich.edu credentials. The group is synchronized with Slack at approximately 8 a.m. and 8 p.m. ET each day.
New members must be added through the michigan-it-slack MCommunity group. The "Invite" function within Slack will not work.
Learn more about the Michigan IT workspace and find tips for creating a new channel on the Michigan IT website. Additional tips for creating communities within Slack are in the article, "How to build an online community for everyone."