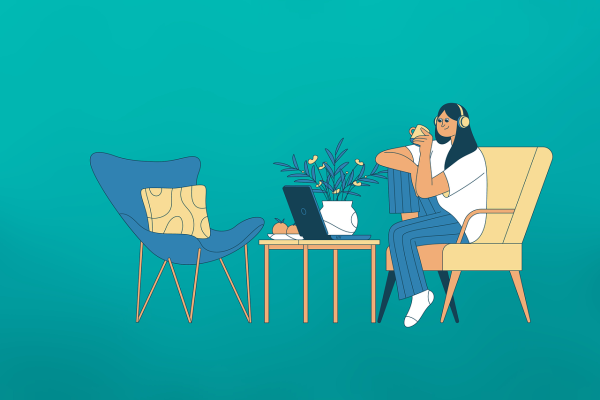 Before 2020, most workplaces had a local community that was visible to anyone that walked into the organization. The community was primarily physical and right in front of us, with digital aspects highlighting the achievements and collaboration from the communities.
Since the COVID-19 pandemic started, entire communities have had to shift to a predominantly digital environment. With the enterprise-wide license for the collaboration tool Slack, units have adopted real-time collaboration, shared organization-wide communications, and created a community of support. Staff, faculty, and students have the ability to create workspaces and build their own digital communities.
This guide will provide some general guidelines for building a digital community and growing it into a thriving, diverse, open, and supportive space for the people in it. 
Online community for everyone
Creating a community online was one of the first steps for everyone who went virtual at the start of 2020. The obvious steps are to pick a platform, create the space, decide who your audience is, and start inviting people. However, creating a community that people want to be a part of is an important aspect, too. 
According to a study published in the Journal of Work-Applied Management, creating an active online community enables people to reach a new feeling of belonging and social presence in the perception of the community around them.
A Slack channel doesn't have to be complicated. In the umichWORKS Slack workspace, the channel "#foodies" has created a culture of excitement for new dishes, sharing information about personal experiences, and enthusiasm for new kinds of foods and ways to cook them.
Be sure to set guidelines about what activity is and isn't allowed in your community.
Diversity, equity, and inclusion
How do we put diversity, equity, and inclusion (DEI) into action when building online communities? By creating a digital space with a culture of inclusion, people can feel safe to share their diverse experiences and create a more equitable community through those shared experiences. Just like implementing DEI initiatives in other areas, it takes consistency. Be sure to create guidelines based on a culture of DEI, which is a clear path for consistency.
How to start building a community
Decide your target audience/community. There are a few ways to define your audience: common interests, jobs, work environments, age, and more.
Create the space. Slack is a great choice for software supported through ITS. Other platforms without specific licensing that could be familiar to your audience include Discord, Facebook, and Instagram. (It is important to remember that ITS does not support these platforms, and they are not approved for sensitive data.)
Decide your community guidelines. This is your community standard for how people can use the platform, ways people are expected to conduct themselves during interactions on the platform, and information about what happens if someone breaks the rules.
Invite people. Make sure to get users in there and ready to start communicating with other community members.
Build an active community through U-M Slack
Slack takes an active approach to community and engagement, requiring users to log in and use notifications for specific conversation areas in which they're interested.
U-M Slack accounts are available to all active faculty, staff, students, and Type-1 sponsored affiliates on the Ann Arbor, Dearborn, and Flint campuses and Michigan Medicine, and includes:
Dedicated channels or workspaces for individual topics, courses, projects, or teams.
Searchable history in all channels.
Ability to share content.
Slack Huddles for live conversations.
Slack Connect for easy communication with external and internal Slack workspaces.
What not to do
Destructive behaviors can ruin a community, and strong guidelines are the best way to fight against them. Some of the more commonly seen destructive behaviors include gatekeeping (keeping people out for arbitrary reasons), assumptions that everyone knows how to access the software and use it, and lack of activity by users and leadership.
Inactivity is the biggest threat to online communities. Without leaders to set the example, membership activity will fall off. However, with a set of solid guidelines, a culture that values diversity, equity, and inclusion, and leadership activity and communication, your online community will have the chance to thrive.