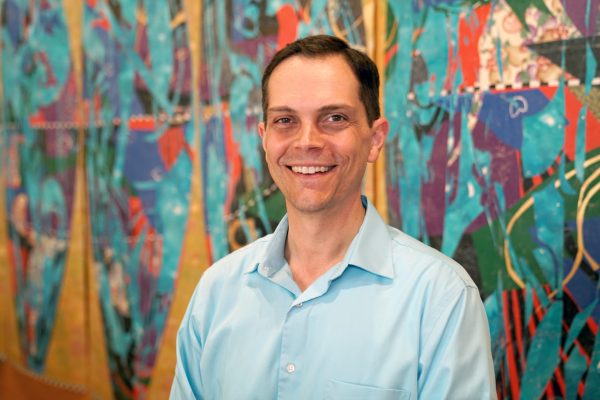 Chris Visel is a senior technical engineer at the U-M Ross School of Business (Ross), where he is responsible for delivering all AV and display technology to all classrooms, conference rooms, study/advising rooms, digital signage, colloquia and auditoriums, and labs. He and his team strive to provide the best user experience for all members of the Ross community.
How did you get started in your career?
I started out working in Operations where I provided AV support. That work included moving transparency projectors from room to room and making sure that the VCRs connected to the TVs properly. In 1990, Ross purchased its first classroom computer projectors. Each consisted of a cart with a full desktop PC with an extra bright transparency projector outfitted with an LCD panel that lay on top of the transparency. There were three of them for 18 classrooms. As classes changed, I was responsible for moving the carts around to different classrooms. I noticed the computers did not boot up correctly or connect to the network, which sparked an interest to learn how to troubleshoot computers. 
Several years later, I started installing projectors and computers into every classroom. Shortly after that, the classroom support team became part of the IT department.
What do you enjoy most about your job?
I love solving technical problems. I really enjoy troubleshooting, problem solving, and optimizing systems. Nothing is more pleasing than when faculty can operate the equipment in a classroom to instruct our world-class students effortlessly.
What is the biggest challenge you face in your work?
Time. Because our building and classrooms are used 16 hours per day, it can be challenging to gain access to them. Securing budgets to do projects can also be a challenge, but I am fortunate at Ross to receive support from our leadership team to explore new technologies and invest in robust and reliable infrastructure.
How does your work impact the university?
As a founding facilitator of the AV Community of Practice, and through my extensive experience implementing AV technology, we can share knowledge and expertise across all campus units. We have been able to share components as needed and, more importantly, learn from each other. Collaborating with others allows us to demo and or experience different pieces of equipment together which streamlines things a good deal. An example of this might be If I was in the market for some higher quality microphones that I know LSA uses, I might reach out to them to learn what models they tried and skip right to purchasing the proper microphones. Similarly Michigan Medicine might be reviewing projectors, inviting other units to attend the demo, and hearing experts from other schools as questions, which makes me think about our faculty needs differently.
How do you handle technology mishaps around campus?
No technology is perfect. In the event that something does fail, I like to touch base, apologize, and set clear expectations of how issues will be resolved. Clear and quick communication is important, but also providing empathy. We always have spare parts, as well as a backup plan, and a backup plan for the backup plan. Degree courses are our highest priority and we do everything in our power to ensure that they run flawlessly.
What advice do you have for people in this field?
Find your peer group. If you are at U-M, join the AV Community of Practice. The U-M community is very collaborative and it is a great way to learn and connect. Be sure to take advantage of all the free manufacturer training out there.
What do you like to do for fun?
I like to play a 25-year-old collectible card game called Magic the Gathering, with my son. I'm also currently interested in 3D printing.
Thank you
I'm very grateful for all of the opportunities, support, and flexibility I've been given here at Ross. I'm also grateful for ITS for fostering groups like the Communities of Practice which strengthens the skills of and fosters relationships in the U-M IT community.