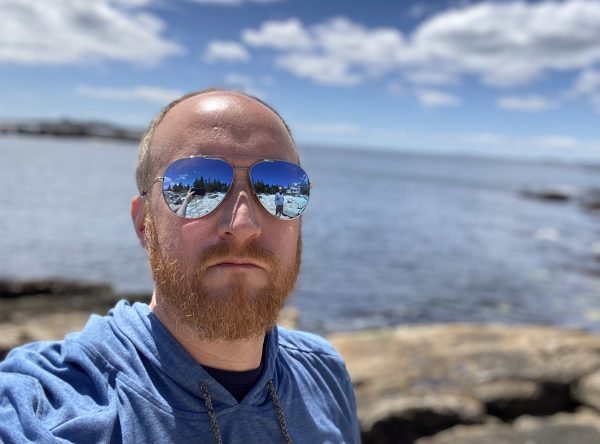 Darin Leese is a business systems analyst with ITS. He has spent his career educating people how to use several tech tools, and currently ensures functionality of My LINC, the university's web-based learning and information center. He recently spent six weeks in Maine to see an art exhibition come together.
Tell us about your role and how you got into this type of work.
I began at U-M in the summer of 1998 working for what was then called the M-Pathways Project as a temporary training facilitator during the initial implementation of the PeopleSoft system. This was my first job after graduating from college. My role transitioned to that of a training coordinator which led to my involvement in moving our training data from FileMaker Pro and an Excel spreadsheet, to a learning management system (LMS). As more and more training was moved from in person to online, the LMS became a more robust and utilized tool. I am now a business systems analyst, and work primarily with the administration functionality of My LINC.
What do you enjoy most about your job?
I really enjoy training new customers on how to use the My LINC system and finding ways to make the system work better for them. It's a nice feeling when you can help a department reduce redundancy and workload by automating some of their training processes. It is fun seeing a new customer's face light up and hearing them say, "Ooh, the system can do that?".
How does your work impact the university?
The My LINC system is used by numerous campus departments, as well as a few within Michigan Medicine, and provides a central system to deliver online training, schedule instructor-led training and track training data for faculty and staff. It has played a key role in several university wide training initiatives and supports important areas like Research, Environmental Health & Safely and Organizational Learning. My LINC also provided a valuable tool for departments to use when in-person staff training needed to be moved online quickly during the pandemic.
What motivates you?
In my job: Feeling a sense of accomplishment, especially when I can find a creative solution to a problem or need. Knowing that sharing some knowledge or experience that I have can help someone to do their job better, or more efficiently. In my life: Making a new art discovery.
What do you do in your down time?
Most of my down time is spent researching, collecting, and selling art, particularly from Maine and Provincetown, Mass., where we travel frequently. There is an exhibition currently on view at the Ogunquit Museum of American Art in Maine, which I assisted in organizing and loaning 28 works from our personal collection. I also enjoy playing and watching tennis, spending time at our house on Lake Huron, and napping with our dog, Archie.