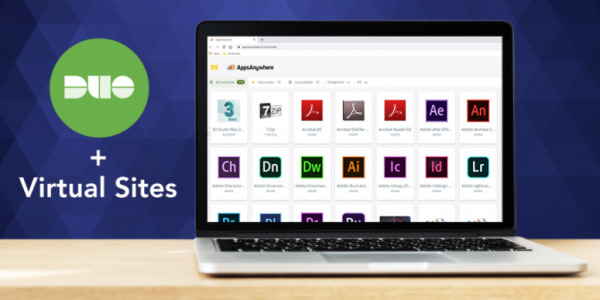 In January 2019, U-M made Duo two-factor authentication a requirement for logging into many U-M systems. Since then, Information and Technology Services (ITS) continues to add two-factor authentication to additional services to ensure that the university is securing our important digital resources. Beginning June 16, 2021, Virtual Sites, another ITS provided service, will be added to the list of services that users must use Duo two-factor authentication when logging in.
For those that are not familiar with Virtual Sites, it is a tool that allows faculty, staff, and students to access a full Campus Computing Sites Windows virtual desktop from any device. This provides on-the-go access to a broad range of licensed software using the AppsAnywhere web portal. Virtual Sites is like a big, virtual computer lab that the U-M community can access from any stable internet connection.
Need help enabling Duo on your device? For more information on how to get started with Duo go to the Get Started page and follow the step by step directions.
Mark June16, 2021, on your calendar for this change to Virtual Sites, and make sure that your device has Duo enabled.