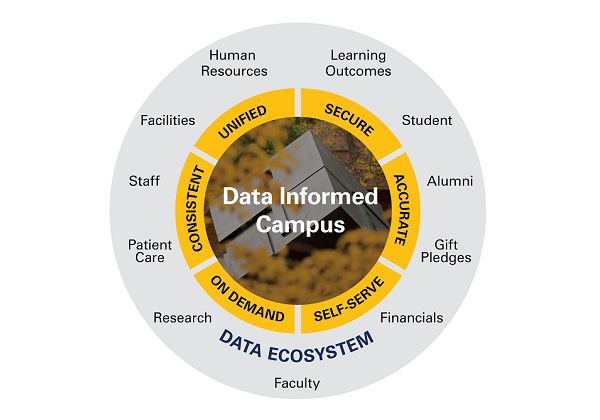 Michigan Insights oN Demand (MIND) is the new name for the ITS data initiative previously known as "Where is our Data?" "The program team felt that MIND better reflected the work that we are doing to enable the Michigan community to easily access data to make better-informed decisions," says Jim Behm, executive director of Enterprise Application Services for ITS.
Three areas of focus
Over the past few months, ITS has been working on a several tracks, all meant to further U-M's journey to the Data-Informed Decision Making Ecosystem vision that was communicated earlier in the year. The current tracks are:
Data solutions
There are currently three active projects withing the data solutions work stream:
"Where is our Data": (Yes, the name lives on.) This project is working with units on campus to provide system level diagrams of how data flows from ITS enterprise systems into unit run systems. The work includes business process analysis, data analysis, and data integrations. Over the past year, the project has completed work for several Student Life systems and has collaborated with Rackham to better understand their data integrations with ITS.
OBP Dashboard: The project team has also been working with the Office of Budget and Planning to develop a dashboard that allows U-M senior leadership to see admissions data in a more timely way.
Student Data Dashboard: This project will develop personal information inventories and expose data collection and usage information via a user-friendly web portal. The dashboard is in support of a robust privacy program that meets compliance and U-M community expectations. (Future project efforts will focus on faculty and staff, alumni, and donors.)
Technology and tools
This track will identify and develop technologies and tools to help the university better use, understand, and gain insights from institutional data, and better represent this data to others. Recent work in this area includes:
Issued an RFP for an augmented analytics tool. After doing a demonstration, executive officers expressed significant interest in acquiring a tool to assist in this area.
Completed an RFP for data virtualization. A proof-of-concept with two vendors and a campus demo confirmed the ability to report on disparate data sources in real-time across many different platforms. Contract negotiations are in progress.
The team completed a proof-of-concept and demonstrated Researcher Companion, a working voice assistant, to several groups on campus. (Watch a video demonstration.)
Informal demos with possible vendors are in progress for a data catalog.
Data governance
To ensure that MIND users gain appropriate access to data in a timely manner, and in a manner that also integrates and accounts for security, privacy, compliance, and ethical obligations, the MIND initiative is coordinating with activities related to updating the U-M data governance framework. Some of the aspects that will be jointly updated include:
Consistent, appropriate, and secure data access based on roles
Common data definitions and catalogs across campus
Improved data quality
Better defined and simpler processes to access, and deprovision access to data.
Community feedback
ITS presented the MIND initiative at the recent Michigan IT Symposium to seek input from campus IT staff on what would add value their decision-making processes. The MIND team will use their feedback (summarized below) to prioritize requests.
Attendees stressed that a central catalog of institutional data definitions and report descriptions all in one place would be very helpful.
They also came up with ideas around voice applications using U-M data. Examples for staff include providing the number of vacation hours they have available, or the ability to update time cards using chat-bots. For students, voice applications could help them navigate their college experience.
Many areas of campus have also expressed excitement in utilizing a data virtualization platform and augmented analytics to help achieve data insights for their specific needs.
A website for this initiative will be announced soon, but in the meantime feel free to reach out to the core team at its.mind.coreteam@umich.edu.