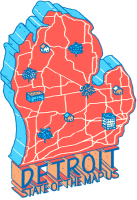 State of the Map US 2018, the OpenStreetMap user conference, will be held in Detroit, MI on 5-7 October this year!
OpenStreetMap is the wikipedia of maps, an open, collaboratively edited map used for everything from international disaster response to autonomous vehicles. You can see the data in Apple Maps, Snapchat, Uber, Lyft, and dozens of other tools we use every day.
State of the Map is particularly of interest to students and researchers who work with urban informatics, GIS, big data, and machine learning. There will be sessions on working with satellite imagery, historical mapping, transit routing, managing millions of volunteer contributions, and more (full program).
The conference is in downtown Detroit, and the U-M Detroit Connector bus is a great option for people who don't want to drive.