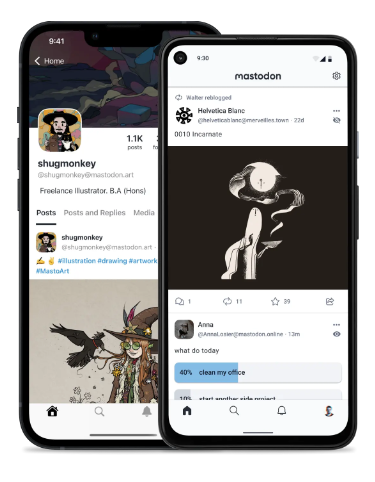 This month, I'm sharing what many consider to be a safer, decentralized Twitter alternative: Mastodon. In many cases it looks like Twitter and you can post similar to Twitter, but it runs quite differently than Twitter. You may be familiar with it as it has become quite popular lately! With all of the recent changes at Twitter, Mastodon is now seeing 2.6M monthly active users.
Rather than everyone signing into the same website, Mastodon runs on many different servers and they can talk to one another via the fediverse. Think of it like email. Someone may use Yahoo!, and they can send a message to someone who uses Gmail. This works in a similar way. Once you've signed up via a selected server, you can connect with people anywhere.
Please be aware that you don't need to completely understand how all of it works to use Mastodon. You can sign up and dive in. Like most things, it'll make more sense as you use it.
Tip 1: Take some time to browse through the servers and find one that fits your interests and preferences. This will ensure that you are most easily connected to other users who share those interests!
Tip 2: If you have a Twitter account, you can use tools like Movetodon to automatically find and follow some of your friends on Mastodon.
Tip 3: Many apps are available to use Mastodon. My current favorite is Metatext.
Are you using Mastodon or other social networks that readers may not be as familiar with? Please share in the comments below!
Have a cool app, tool, or tech tip you'd like to share? Contact Chase Masters. Please note that Tech Tips are personal recommendations and might not be officially endorsed or supported by U-M.