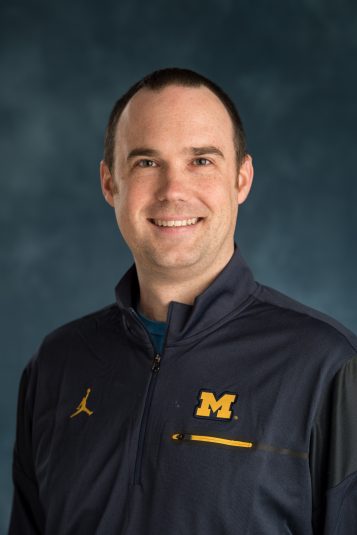 You've been working for LSA for 6 years. What experience did you have prior to becoming the supervisor of the Instructional Computing and Hardware Lifecycle Teams?
I started my journey with LSA on the Customer Experience Team back in 2016 as a desktop support specialist intermediate. I worked with all the support regions to provide excellent customer service over the phone and in person.
In 2017, I joined the Instructional Computing team as a desktop support specialist senior. As a senior I managed their iPad fleet and transitioned to a new management system to allow on-the-fly updates. I also led the configuration, installation, and launch of the computers used for the new Virtual Reality classes.
At the end of 2019, I became the interim supervisor for the Instructional Computing team and then became the supervisor (no 'interim') in August 2021. During this time I successfully transitioned our support model, device use, and configuration to be more efficient and effective during the pandemic.
In January 2022, LSA started a new team called the Hardware Lifecycle Team and I was appointed the supervisor. With the start of this team we have taken on all inventory, purchasing, and configuration of computers for all new staff devices within LSA.
Tell me a little bit about what your teams do.
I lead two teams. The first is the Instructional Computing team and its mission are highly aligned with both the Academic Technology and Research Computing & Infrastructure divisions of LSA Technology Services, ensuring that the technology we deploy in our classrooms and labs is consistent with the technology our faculty and staff use for their teaching and work.
The Hardware Lifecycle Team takes care of devices from purchasing to disposition. The benefit to having one team handle all of this is that we have a more accurate and updated inventory which helps us have a better understanding of the technology needs of LSA. Moving repeatable tasks such as purchasing, inventory, and configuring equipment to one team allows our other support locations to spend more time on supporting our end users.
Do you have any professional goals for this upcoming year for you and your team?
This year I hope to improve efficiency for both teams through the creation and application of automated processes. These automations will allow the teams to focus on collaboration with other colleges and departments to successfully grow their duties and responsibilities. I believe that collaboration with other departments and colleges is a vital element in earning the trust of new customers and maintaining the relationships of our current customers. This helps us all ensure that we are providing excellent service.
What do you enjoy most about your team?
I am so lucky to be able to supervise such amazing people. The best part of both my teams is that everyone has different experiences and expertise, which allows us to come at problems with lots of viewpoints and come up with a solution faster. I also love that, no matter what comes up, everyone is willing to do whatever it takes to get the job done all while having fun doing it.
Tell us a little bit about your life outside of the office. What do you like to do for fun?
Outside of work I like to hang out with my family. I have a wonderful wife, and two kids, Juliette, who is seven, and Xavier, who is five. They keep me busy with video games and running around. Besides that, I like to watch movies, play video games, work on my fish tank, and find ways to automate my house.
What is one thing people would be surprised to learn about you?
I have a 215 gallon saltwater fish tank that is big enough for my wife, Stephannie, to lay in.