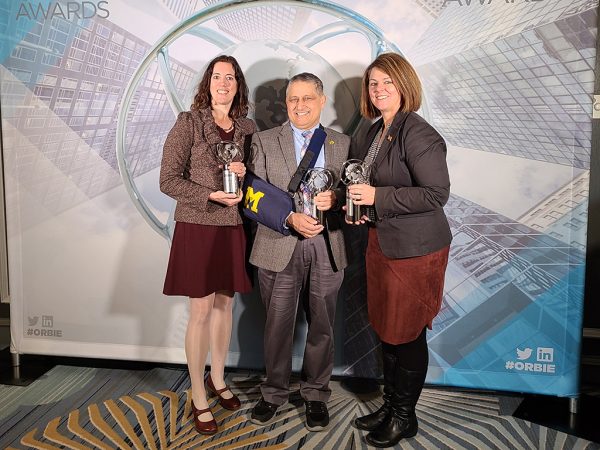 MichiganCIO announced the winners of its 2022 CIO of the Year® ORBIE® Awards. MichiganCIO recognized chief information officers in six key categories – Super Global, Global, Large Enterprise, Enterprise, Corporate, & Healthcare. The awards were presented at the MichiganCIO ORBIE Awards at The Henry on October 21.
"Every business is a digital business, and having inclusive, empathetic leadership is the X-factor that can elevate IT into a remarkable strategic differentiator," said Dr. Ravi Pendse, U-M's vice president for information technology and chief information officer and the MichiganCIO Chair. "The ORBIE Awards are meaningful because they are judged by peers – CIOs who understand the challenges of technology leadership."
The MichiganCIO ORBIE Awards keynote was delivered by Ravi Pendse, who was interviewed by Anita Klopfenstein, CIO, Little Caesars. Nearly 300 guests attended, representing leading Michigan organizations and their technology partners.
The 2022 Michigan CIO ORBIE Award winners from U-M
›› Ravi Pendse, VPIT-CIO, received the Leadership ORBIE.
›› Cathleen Curley, CIO, U-M College of Literature, Science, and the Arts, received the Enterprise ORBIE for organizations with over $1 billion annual revenue.
›› Carrie Shumaker, Chief Information and Strategy Officer, UM-Dearborn, received the Corporate ORBIE for organizations with up to $1 billion annual revenue.
"I'm proud to represent our exceptional Technology Services team, our college and the University. My team is driven with great purpose to find creative and innovative ways to partner with faculty to advance their research and teaching. It's a joy to be part of this team and the broader Michigan IT community who work hard to enable students, faculty and staff to make incredible impacts in and beyond U-M," said Curley.
"When technology is running smoothly, it often goes unnoticed. I am incredibly honored to receive the ORBIE CIO of the Year award and celebrate with my UM-Dearborn team. They are gifted leaders and technologists who make the impossible happen for our students, faculty and staff," said Shumaker.
Of the win, Pendse said, "I am humbled to receive the ORBIE Award in leadership, as it comes from peers and it celebrates the achievements of the entire IT community at U-M. I am lucky to do what I am passionate about and to work for colleagues and amazing staff who understand the value they bring to the university. We are able to deliver technology and services that ensure our great institution achieves and surpasses its mission and goals. I am thankful for their diligence, and I graciously accept this recognition on behalf of them and the outstanding work they do."
About the awards
The CIO of the Year ORBIE Awards is the premier technology executive recognition program in the United States. Since inception in 1998, over 500 CIO of the Year winners have received the prestigious ORBIE Award. The ORBIE honors chief information officers who have demonstrated excellence in technology leadership. Finalists and winners are selected by an independent peer review process, led by prior ORBIE recipients.
About MichiganCIO
MichiganCIO is the preeminent peer leadership network of Michigan chief information officers. MichiganCIO is one of 25 chapters of the InspireCIO Leadership Network, a national membership organization comprised exclusively of CIOs from public and private businesses, government, education, healthcare, and nonprofit institutions.
MichiganCIO is led by a CIO Advisory Board, supported by an executive director and staff. Underwriter executives ensure programs remain non-commercial and exclusive to qualified CIOs and members.