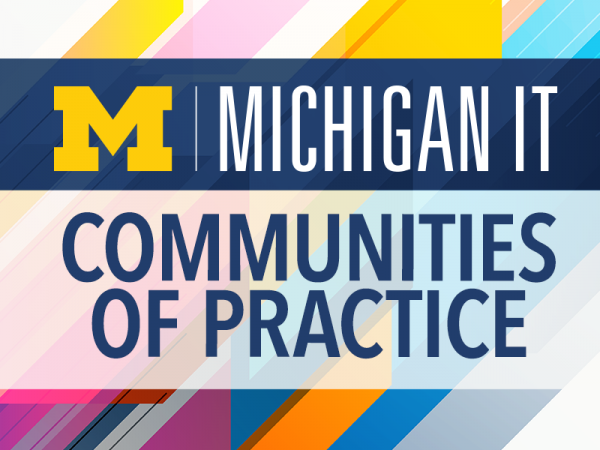 We are excited to announce the creation of the Collaboration & Productivity Community of Practice!
Collaboration and productivity services (like Google Workspace, Slack, Dropbox, and more) are widely used and critically important across the university community. They support cooperative work through real-time collaboration and discussion, shared access to resources, and the facilitation of day-to-day tasks, like the creation of documents, workflows, and more.
This Community of Practice will discuss, educate, and inform about such services, collect and offer examples of their use, and work to elevate collaboration and productivity at the University of Michigan. Membership is open to active U-M faculty, staff, and students across the Ann Arbor, Dearborn, and Flint campuses, as well as Michigan Medicine.
The ITS Collaboration Services team has, in the past, facilitated a small advisory group consisting of U-M staff from various schools, colleges, and units across our campuses. The group offered a space to announce recent and upcoming changes to ITS-provided cloud collaboration services and encourage discussion on how provided services can be best used.
To broaden the conversation and better serve and learn from the university community as a whole, we have now transformed this group into a broader Community of Practice.
The Community of Practice leadership team is excited to continue providing information to the U-M community and provide a venue for deeper dives into services and features, sharing best practices, and discovering better ways to work together.  
If you are interested in joining the Community of Practice, add yourself to the Collaboration & Productivity Community of Practice MCommunity group. Meeting details and information will be provided through this group.
Join us for the inaugural meeting on November 2, 2022, from 3 to 4:30 p.m. Additional meeting information, including Zoom details, will be sent to attendees via email prior to the event (so be sure to sign up for the MCommunity group to receive the information).
For questions regarding the Collaboration & Productivity Community of Practice, please email collaboration-productivity-cop-facilitators@umich.edu.