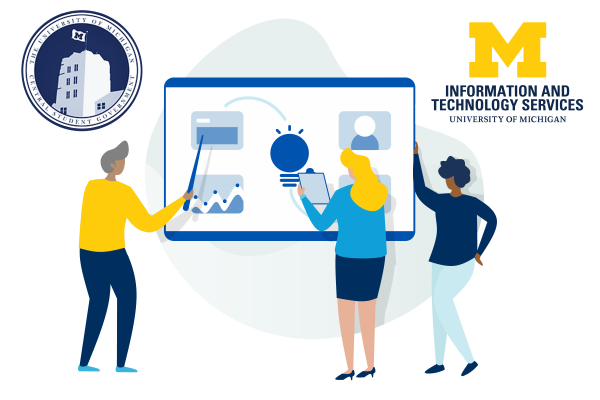 In order to make events like alpaca yoga, Quidditch matches, improv shows, and pierogi cooking nights possible, student organizations across campus often request funding reimbursement from Central Student Government (CSG) to cover various event costs. Recently, CSG's Student Organization Committee (SOC), which is responsible for managing and approving these requests, partnered with Information and Technology Services' Support Services team to improve the efficiency of their processing technique. After successfully implementing a ticketing system using TeamDynamix software, SOFC has cut request turnaround times in half.
Previously, after hosting an event, a student organization would fill out a Google Form to apply for funding reimbursement before a given deadline. In that form, they would explain how their event matched funding criteria and the purchases they hoped to have reimbursed. In a separate form, they would also submit their proof of payment for those purchases. Applicants would typically expect to wait 24-27 days for a response. Once they received their funding, if they were unsatisfied with the amount, they could appeal their request by filling out another form.
Around the time of a new deadline, the Student Organization Funding Committee (SOFC, a branch of SOC) meets weekly to review applications, determine whether items listed on those applications are fundable, and vote on an amount to award each student organization. These decisions are then reviewed by the SOC Director as the final step before SOFC notifies the student organizations about their request results.
As Hayden Jackson, the SOC director, explained when he first approached ITS for help in July, this old way of processing requests was overly manual and slow. More importantly, many student orgs had new leaders who were unfamiliar with the process, and they often emailed back and forth with SOFC to ask questions and review their forms. As the volume of requests SOFC received continued increasing over time, the process was becoming more complicated and unsustainable. Jackson hoped to create an automated system that would serve as both an immediate and long term solution.
Jackson's first question to ITS was if they would be willing to work with a student group like CSG, as he hadn't worked with the group before in this capacity. ITS Support Services was more than happy to jump in.
"From the very beginning, the Support Services team was excited to work with us on making things run more smoothly for student organizations, and they went out of their way to ensure we had everything we needed for this to be a success," Jackson said. "It's been a great partnership—easily one of the best partnerships we have with campus administrative units."
Eager to help, the Support Services team quickly began collaborating with Jackson and other CSG members to transform the old process and its multiple Google Forms into a one-stop-shop with TeamDynamix, a project and service management software that ITS has been using for team collaboration, project management, individual tasks, and various ticketing services (such as help requests) since May 2020.
Lynne Ertel, a business systems analyst within ITS, acted as the team's primary contact and worked closely with CSG to define each step of the process (including the initial request, proof of original payments, and potential appeals), and explore how CSG wanted student orgs to interact with them during the request process. Afterward, Aimee Fillmore, a business process consultant, then worked on workflow development and configuration before the whole Support Services team collaborated to create the single TeamDynamix form that would replace the old Google Forms.
"Working with the students has been great," Ertel said. "CSG has such an energy and an openness, and they were all excited to implement a new ticketing system. Rather than being frustrated or bored with the problem they faced, they really put their energy into creating a solution with us. It's been a fantastic experience, and it just helps us to reconnect with our mission and the reasons we're here."
Apart from being able to incorporate multiple forms and workflow processes into one ticket, TeamDynamix also has the benefit of allowing SOFC to edit ticket information, add new collaborators, and send messages to both collaborators and requesters—all without having to create new documents or juggle email threads. This new ticketing system means a simpler, cleaner process for both the student orgs and SOFC.
CSG first requested help from ITS in mid-July and, given the enthusiasm from both groups, the TeamDynamix system was implemented before the first funding cycle on September 8. Even while they continued to make small modifications after that first round, the overall response was extremely positive and the new system was an immediate success. Communication between student orgs and SOFC is easier than ever before and student orgs can receive their funding in half the time.
"As a student org that is new on campus," said Karthik Pasupula, vice president of the U-M Young Democratic Socialists of America and the treasurer of Students for Democracy, "and, as someone who had little to no idea on how applying for reimbursement worked, the TeamDynamix platform for funding applications was really seamless and easy to understand. The application platform itself was all there in front of me, so I really had no questions on that end. However, the way I could get individual responses and updates on my request was really helpful because it gave me a good idea of where my application was in the process, and I didn't have to send multiple emails asking for updates."
Although this collaboration is the first between this Support Services team and a student group, both parties hope to work together again in the future.