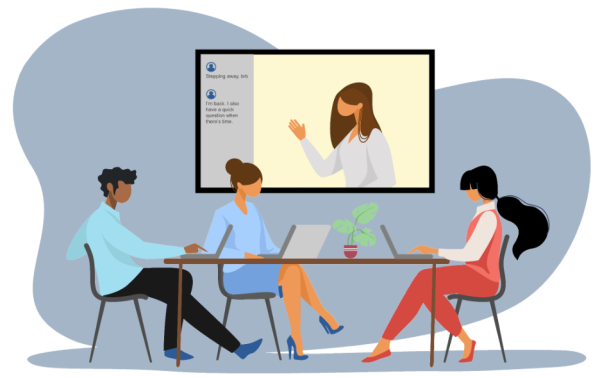 Hybrid meetings have become the norm as people have returned to campus while others work from home. That's why Information and Technology Services created a guide to navigate those meetings. See a quick breakdown of the tips and best practices for how to get the most out of your hybrid meetings. The communications toolkit can help you share this information with drafted social media posts, newsletters, and graphics. Make sure to share it with your peers, too.
Before meeting basics
Ask yourself, "Can this meeting be a Slack chat or email?" If the answer is yes, do that instead.
Identify a clear outcome of the meeting and share that with participants in advance.
Share or email any documents or references to be used ahead of the meeting, so participants can follow along. Include them in the meeting invite, if possible.
Make sure you're familiar with the technology, whether that's the equipment in a physical room or the software on your computer.
During the meeting
Your meeting should be inclusive: have captions turned on, ask people to raise hands instead of talking over others, and wait a little longer for responses because people may have to unmute.
Encourage people to use cameras, and have a camera for your conference room, too. Display remote participants on the screen.
Use headphones with a built-in microphone if you're remote, and mute yourself if you're not talking.
If you are not in a Zoom Room or other conference room that can show all in-person attendees on video, consider having those in the room use their laptops to join the meeting virtually, but without sound. When prompted, select the "do not join audio" option, and, instead, have everyone use a shared single speaker phone.
If you've developed your own tips or have found something particular that works for you and your team, feel free to share in the comments.