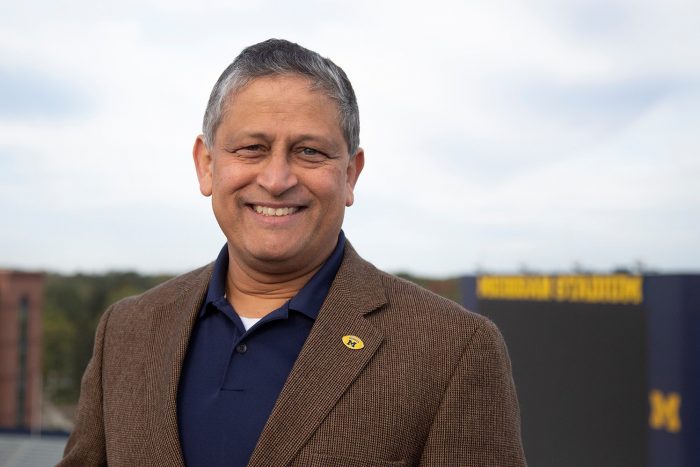 Greetings, everyone.
As the university begins the search for our next president, I find myself reflecting on the qualities that create great leaders. We do not need to look far to find inspirational models. Within our own Michigan IT community and in every pocket of the university, there are examples of leadership at all levels regardless of position and role. I see incredible perseverance, integrity and eagerness to listen and learn from each other. The next leader of this institution must be able to harness and grow this gift of leadership we have. What qualities do you feel are the most important for leaders to have? What are examples of everyday leadership that you see happening in your area?
Speaking of leaders, last week I had the privilege of speaking with the Strategic Technology Advisory Committee (STAC), a group of over 70 outstanding IT leaders from across all campuses. The group gathered to discuss actionable ways we can all continue to collaborate and work together to meet the unique needs of our institution. Outcomes of previous discussions and collaborations with STAC include the creation of the Technology Leadership Community of Practice, the U-M Software Directory, and enhanced communications between ITS and units during major incidents, so I am eager to learn more about the outcomes of the session. Our close-knit partnerships create tremendous value to the U-M community, and I want to thank STAC Chair Regis Vogel and STAC Vice Chair Cassandra Callaghan for their leadership, as well as everyone who participates in our IT Governance process.
We are coming up to the second anniversary of the start of the pandemic in Michigan. Last year, I was in awe of our community's ability to pivot so much of the university online in a time of critical need and not miss a beat. Our community and the world have faced different sets of challenges in year two. These challenges required us to be flexible and approach the changing environment with resilience. Thank you to each and every one of you for your continued hard work and dedication.
March is Women's History Month, and I am inspired by the women I work with, those I've worked for, and those I have learned from throughout my life. Over the next several months I will be working with all of you to collaboratively create opportunities to highlight innovators, tech disruptors, and leaders — many of whom are women — to spark our sense of innovation in our day-to-day work. I would love your thoughts on individuals we could speak with and learn from, both on campus and beyond. We all have so much to learn from each other, and I can't wait to see what's next.
With gratitude,
Ravi
Ravi Pendse PhD
Vice President for Information Technology and Chief Information Officer
University of Michigan
rpendse@umich.edu