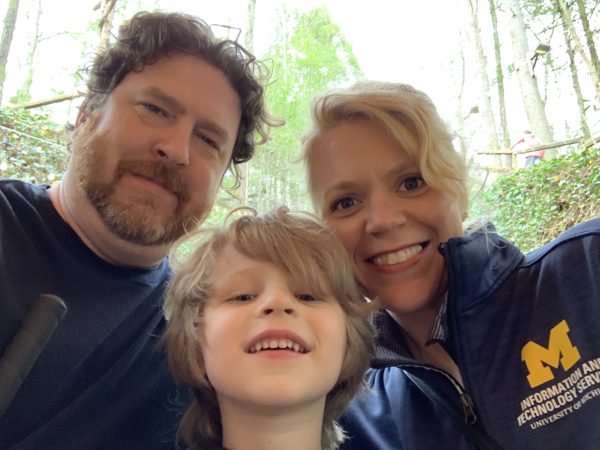 Jennifer Wilkerson is a lead performance support analyst on the ITS Information Assurance team. She promotes IT security and privacy awareness within the U-M community and her work often involves change management. She loves being outside and walking in her neighborhood as a form of self-care. She also enjoys reading, traveling, and spending time with her family and three dogs.
Describe a typical day in your role as the lead performance support analyst. Is there anything that might surprise someone unfamiliar with the job?
I've been lucky enough to work in several different areas of the Information and Technology Services (ITS) organization, and my tasks have varied in each position. Now that I'm in Information Assurance (IA), our focus is on IT security and privacy education, awareness, and training for the U-M community.
Besides providing tips, best practices, and instructions on the Safe Computing website, we also write quarterly Safe Computing newsletters, host educational events, and work with Unit IT managers and Security Unit Liaisons to develop and implement ongoing unit-based materials. I'm often focused on change management and various forms of end-user communications and training for IA projects such as Grouper at U-M and the MCommunity Transformation project.
I think what might surprise someone who is unfamiliar with my work is how performance support analysts (PSAs) often fill other roles in projects along with more traditional PSA work. For some small projects, we often do the training, change management, communications work, and project management when the projects are too small to have other staff members fill those roles.
What has your career journey been like? What led you to this position at the university?
I started at U-M as a technical writer with Michigan Medicine in 2007. I moved to what is now Information Technology Services in 2008 as a Performance Support Analyst. Since 2008 I've had incredible opportunities to work in several different areas of the organization, partner with many other teams, leaders, and units on campus, and work on a large variety of IT projects. In 2015 I started learning about and working more actively in change management. It felt like the missing piece for me as someone passionate about campus-wide engagement and end-user education. I moved to the lead performance support analyst position in Information Assurance because IT security and data privacy is really important work and I've always been interested in cybersecurity. I feel very fortunate to be in a career that I truly love and do work that makes a real impact at the university.
What are your favorite parts about being involved in change management?
I really love campus engagement and working with other teams across the ITS organization to help our users understand and adopt new services and learn about and adjust to changes in existing services. If there is one thing we all know about the landscape right now, it's that there are constant changes and people struggle with change fatigue. One of my favorite parts of my job is working with people to help them understand why the changes are happening, the benefits they bring, and how to practically adjust as seamlessly as possible to each one.
Are there any particular challenges you often face?
In my experience, the biggest challenge with change management is that people are saturated with constant change in their organizations and their personal life, especially amid a pandemic. While the changes in IT and on campus cannot be held off, as an organization and as individual change managers, we need to be aware of change saturation to help impacted users prioritize change and take in the pieces they need at the time they need it.
My tips for people who are experiencing change fatigue are to take stock and prioritize the most important change first. There are so many different changes happening in our personal lives and at work on a daily basis. We can't comprehend or take everything in at once. It is important to acknowledge everything that's happening and then prioritize what change to focus on and what you need to be prioritized with that change. Also, self-care! It is so important to rest, eat well, get whatever form of exercise our bodies need, and spend time with our friends and family.
We can better face challenges when we are taking care of ourselves.
You were involved with the Zoom rollout at the beginning of the pandemic that helped facilitate the transition to remote learning, teaching, and working. What was it like to be a part of such an immediate and critical project?
As difficult as the pace was on the Zoom rollout, it's been one of the projects I'm most thankful that I had the opportunity to be a part of, and am most proud of the work we did and what we accomplished. This enormous effort was possible because of collaboration with several people throughout ITS and on campus that I hadn't had the opportunity to work with previously. It was several weeks of long hours, but the gravity of the pandemic and the value to campus of the work we were doing helped keep us all on track. Once Zoom was implemented, we also assisted campus with several important events on Zoom over the next several months. We assisted with the first fully virtual Regents meeting in May 2020, HITS Internal Medicine Town Halls, Research Town Halls, the University All Chairs and Division Leadership meetings, as well as several other meetings to assist faculty and staff with understanding how to support their own webinars and classes. Seeing the benefit of this service up close and in real-time was really meaningful.
Are there any other projects you've worked on recently that you particularly enjoyed or are especially proud of?
There are several projects, but the most recent is likely the U-M Box Retirement project. It's a great example of a complex project that was extremely gratifying and provided incredible opportunities to partner with unit IT across campus and learn about their users and how campus uses our services. Leaving Box meant migrating two petabytes of data owned by the U-M community from all three campuses and Michigan Medicine while enabling them to continue to collaborate on that data.
To accomplish this, we worked with over 300 unit ambassadors in weekly Office Hour sessions and bi-weekly meetings to discuss the migration process, communication expectations, and help assist with issues and questions from their users. It was a massive effort and one we couldn't have as effectively accomplished without the help of unit ambassadors, a knowledgeable project team focused on engagement, and the leadership from Bob Jones and Reid Paxton.
What hobbies or interests do you pursue outside of work? What attracts you to them?
I love to be outside moving, whether it's alone or with my husband, kiddo, and my three dogs. Fresh air and physical exercise are two of the most important aspects of self-care for me. Whether it's an actual timed run or a casual walk, it always helps clear my head and enables me to focus on the present. Learning is also a passion, and I love to read and travel.