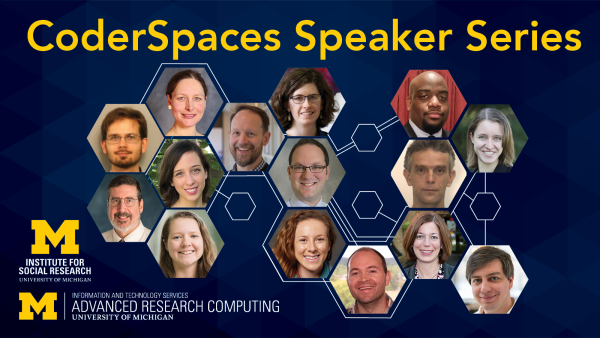 All members of the U-M community are invited to join the CoderSpaces hosts during the month of November as they share their expertise! The presenting hosts are a team of ITS Advanced Research Computing (ARC) and Consulting for Statistics, Computing & Analytics Research (CSCAR) consultants, faculty and post-docs, as well as research support staff originating from different research cores at the university.
In this short speaker series, they will introduce some of their favorite programming tools, talk about the resources they support at the university, and showcase the types of work they do. The talks cover advanced research computing, reproducible research practices, workflows, data pipelines, and machine learning applications. Each talk will be about 30 minutes in length followed by a chance to chat with the speaker and learn more.
CoderSpaces are weekly virtual research support sessions designed to assist faculty, staff, and students with research methodology, statistics, data science applications, and computational programming. Hosts have a wide set of methodological and technological expertise. They come to you from a variety of departments and disciplines and are looking forward to serving the U-M community in their research endeavors. CoderSpaces provide a casual, productive, and inclusive environment. Everyone is welcome regardless of skill level.
View all of the professional development talks on the ISR events page.