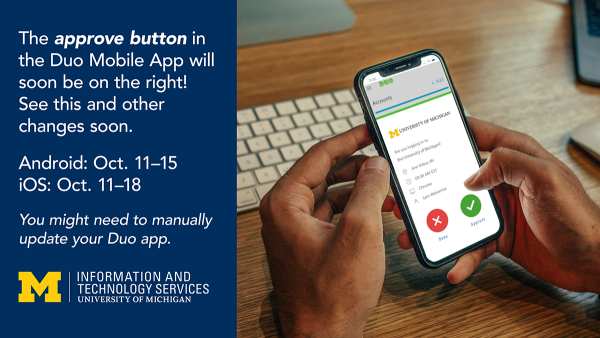 The Duo Mobile application has been redesigned, and the new version will be released soon.
The update will be available in both the Google Play store and the App Store beginning October 11. The apps will automatically update between 11 – 15 for Android users, and October 11 – 18 for iOS users. If auto-updates are not enabled, customers may need to update the Duo Mobile app manually. ITS recommends auto-updates to ensure the latest security updates are applied as they become available.
The most significant change for both Android and iOS is that the approve button is now on the right.
The core functionality of Duo Mobile is not changing. You will continue to be able to:
Receive a Duo Push.
Use passcodes.
Add, edit, reorder, and remove accounts.
Backup and restore accounts.
"The Duo Two-Factor Authentication application has been protecting the university since January 2020, with some units using it for much longer. These changes improve the user experience and make using Duo ever easier for everyone to use," said Sol Bermann, chief information security officer and executive director of ITS Information Assurance.
Additional information