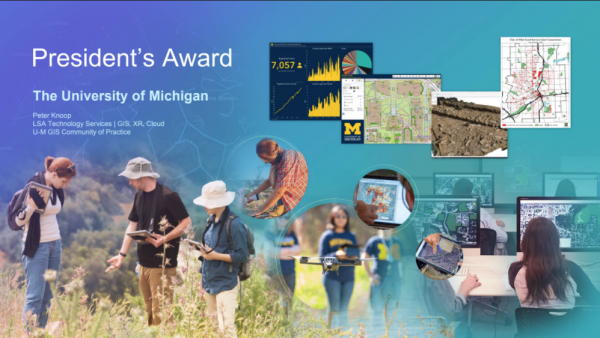 At this past July's annual Esri User Conference, the University of Michigan was recognized with the prestigious President's Award for being a model for the higher education community in how to become a true geospatial university.
Receiving the award on behalf of the university, in front of a virtual audience of over 60,000, Peter Knoop, a senior programmer/analyst with LSA Technology Services, noted, "Today, most units have some faculty or staff using Geographic Information System, while nearly all degree programs include students who have used some form of GIS during their time at the university."
U-M has established themselves as a leader in enabling and supporting their community through the implementation of a large-scale, campus-wide GIS where faculty, staff, and students in all disciplines implement GIS as an innovative tool in research, learning, and administration.

Jack Dangermond, Esri president
Reflective of the board adoption of GIS across U-M, and representing all three campuses, Peter was joined during the award presentation by Ann Arbor colleagues, Caitlin Dickinson and Abbey Roelofs (LSA Technology Services), Nicole Scholtz and Caroline Kayko (University Library), and Ray Garret (Facilities and Operations). Representing Dearborn were Claudia Walters (Director, Environmental Interpretive Center) and Jacob Napieralski (Director, GIS Programs). And, from Flint, Greg Rybarczyk (Director, GIS Programs).
View the award video.
Jack Dangermond, president of Esri observed, "U-M has established themselves as a leader in enabling and supporting their community through the implementation of a large-scale, campus-wide GIS where faculty, staff, and students in all disciplines implement GIS as an innovative tool in research, learning, and administration."
Today, a GIS can encompass a variety of application, service, and data solutions, from on-premise to Software-as-a-Service. And, solutions can range from easy-to-use, intuitive web and mobile apps with broad applicability, to powerful desktop applications and server infrastructure for advanced users.
The key to powering the broad adoption of GIS across the university has been the transition from a GIS of the past — a desktop-application-centric world — to Modern GIS, where web and mobile join desktop and server resources in a fully integrated environment. In addition to continuing to serve professional and advanced GIS users, the Modern GIS model adds new, light-weight GIS tools, which present a very low-bar for entry and have found new users across the institution.
Another critical factor in geo-enabling the university was the early adoption of Esri's support for integrating ArcGIS technologies with campus' systems of authority and automation. Those steps enabled the empowerment of everyone with access to ArcGIS Online — Esri's Software-as-a-Service offering — while minimizing the administrative costs of overseeing and maintaining such a system.
All active faculty, staff, and students, can authenticate and are authorized through Weblogin for immediate access to ArcGIS Online and nearly all other aspects of Esri ArcGIS technologies. As a result, GIS has become yet another ubiquitous tool across the institution. Resulting in map making and spatial analysis becoming as accessible and commonplace as spreadsheets and word-processing. Furthermore, the use of GIS at U-M continues to grow at an ever increasing pace, year-over-year, indicating a wealth of untapped potential.
Knoop shared, "You know you are successfully delivering GIS at scale when you no longer know what people are doing with it." In large part this is the result of light-weight, modern GIS tools that no longer require the help of an expert to utilize. They enable even those new to GIS to be productive immediately. Knoop and the rest of the esrisupport MCommunity group are regular impressed with the quality and scale of the GIS work being enabled, but which they often only learn about after the fact.
For example, Lara O'Brien, while a master's student at the School for Environment and Sustainability, developed a GIS-based citizen science project to track balloon debris. Knoop first heard about the project, not because they needed GIS help, but while listening to Stateside on WUOM on the way to the annual Esri User Conference in 2019, What goes up must come down: balloon waste on Great Lakes shorelines. O'Brien went on to win U-M's 2020 Esri Innovation Program Student of the Year Award for her GIS work.
Other universities often have barriers or gatekeepers between their users and their GIS systems. They might limit access to certain groups on campus, or require users to request permission to use each piece of the ArcGIS platform. While appropriate for GIS support models of the past, Esri's site license model now covers an entire university, and Modern GIS flourishes when those outmoded obstructions are removed.
The Esri award also recognized the University of Michigan's leadership in helping other educational institutions follow the same path to geo-enabling their communities. Several times a year Knoop leads workshops on how to manage and support GIS at an institution-wide level. He also serves as the facilitator for a key group of GIS universities, which meet a couple times a year, and provides consensus feedback to Esri development teams on higher-education priorities.
That effort has resulted in changes that have significantly reduced the time and effort spent administering Esri ArcGIS technologies, which means Knoop and others can focus on helping people use the software. It has also led to improvements in collaboration capabilities for many of the light-weight GIS tools used across campus, such as ArcGIS Online, StoryMaps, and Field Maps.
In response to the announcement of the award on the Esri Higher-Ed Listserv, Len Kne, director of U-Spatial at the University of Minnesota, was one of many to congratulate Michigan and Knoop on their achievement, "It is great to have Jack recognize the importance of higher education in preparing the future workforce. Thanks to Peter for his leadership in setting best practices for implementing the Esri platform across the campus, including critique when shortcomings need be addressed."
This was the first time in the President's Award's history, since its inception in 1989, that an educational institution was honored. Past recipients include government organizations, Fortune 500 companies, and non-governmental organizations, such as the State of Massachusetts, City of New York, Department of the Interior, UPS, the American Red Cross, and the National Audubon Society.
Interested in learning more about GIS at U-M? Check out the Michigan IT Community of Practice, GIS@UM, or GIS resources for U-M, or dive right in and explore ArcGIS Online!