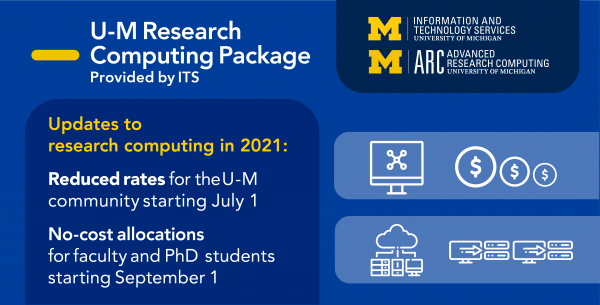 Information and Technology Services has launched a new package of supercomputing resources for researchers and PhD students on all U-M campuses: the U-M Research Computing Package, provided by ITS.
The U-M Research Computing Package reduces the current rates for high performance computing and research storage services provided by ITS by an estimated 35-40 percent. The reduction in rates will be automatically available for all researchers on the Ann Arbor, Dearborn, Flint, and Michigan Medicine campuses beginning July 1.
In addition, beginning Sept. 1, university researchers will have access to a base allocation for high-performance computing and research storage services (including high-speed and archival storage) at no cost, thanks to an additional investment from ITS.
"This initiative will enhance and transform our research computing environment, where data, computation, and machine learning are at the center of research and a cornerstone of learning," said Ravi Pendse, vice president for information technology and chief information officer.
The U-M Research Computing Package meets the needs across a diversity of disciplines and provides options for long-term data management, sharing and protecting sensitive data, and more competitive cost structures that give faculty and research teams more flexibility to procure resources on short notice, including use between grants.
Researchers will be able to more easily share resources and data, which avoids unnecessary costs from the duplication of service creation in the laboratory setting. Fewer high-powered systems will be needed, which will help the university to understand and reduce the impact on climate from computing. Further, researchers will have the reassurance of strong security protocols, and do not have the burden of running their own systems.
"We are excited to provide a risk-free environment for those new to computation and big data in pursuit of innovation in their disciplines, as the UMRCP will reduce the need to invest grant funds toward computation services," added Brock Palen, Advanced Research Computing director. "We focus on the technology so researchers can go do what they do best."
Additional information about the U-M Research Computing Package, including how to request allocations when the service is available on Sept. 1, is available on the Advanced Research Computing website.