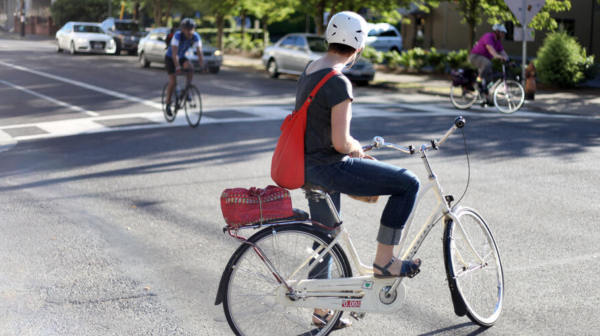 A UM-Dearborn professor has developed a bike-mounted lidar system that could help researchers and engineers design new strategies for safer streets.
Normally when one of our stories mentions lidar — the laser-powered locating technology that's similar to radar or sonar — we're talking about autonomous vehicle navigation. But UM-Dearborn Assistant Professor Fred Feng, who studies non-motorized mobility safety issues, recently developed an application for lidar that could be a big help for those working in the active mobility space.
In the name of research, Feng has been strapping various sensors to bicycles and vehicles for years, and to date, that's typically meant GPS and video cameras. They all work pretty well, especially if you're looking to capture intimate observational data about bicycle riders' real-world experiences. But Feng says this technology cocktail has a few important limitations. For example, if you want to take a detailed look at "overtaking" — a common high-risk scenario in which a driver passes a cyclist on the road — camera systems can't really give you an accurate measurement of how close the car got to the cyclist. And even if you've equipped your bike with a proximity sensor, it can only record a single measurement at the moment the car temporarily draws even with the cyclist.
Read the rest of the story about using lidar technology for safety research on the UM-Dearborn news site.