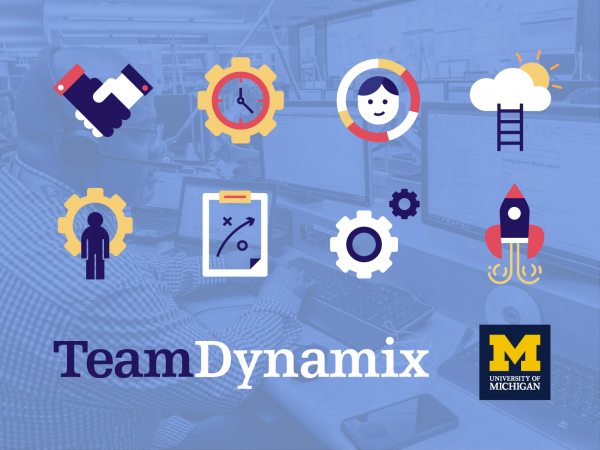 Last spring, while the entire world was coming to terms with uncertain "new normals," growing health concerns, and video conversations interrupted by home life, a project team in Information and Technology Services stayed stubbornly on track and under budget for its May 12, 2020, release date.
That team was replacing ServiceNow with TeamDynamix. The importance of their work was not necessarily in this technology change only; it was the vision of service excellence—of providing user-centric, laser-focused customer service—to the university at a time of incredible and unique challenge. Though the timing was completely unanticipated, quality IT support and service management made possible by a more cost-efficient tool was needed most by the university during the pandemic.
"By equipping our staff with the best tools for their job, each person in ITS is empowered to better support the university community," said ITS project sponsors Bob Jones, executive director of Support Services, and Diane Jones, executive director of Administration. "Selecting the right tool was only the start. The most impactful work was introducing a simple methodology for how we serve our campus customers, and then aligning the entire organization to support it."
The right tool plus simple methodology equation speaks for itself. The outcome was a 100% reduction in ITS incidents unresolved after three days that were submitted by faculty members, deans, and unit leaders from June 2018 to April 2020 (189 to 0 open incidents). Measuring customer service with these incidents ensures our technology is directly supporting teaching and learning, research, and patient care. Our focus in ITS is expanding to three new customer service metrics in the upcoming year: active and on-hold requests, and problem resolution.
Creating a culture of service excellence
The ITS Service Excellence initiative represents more than rolling out a new IT service management tool. It is an ongoing, holistic look at elevating the customer experience in ITS, from the moment an idea for a service starts through its entire lifecycle to retirement.
At the heart of the switch to TeamDynamix was a far less technical effort: reintroducing and socializing IT service management processes for incident and request, major incident, problem, change, and knowledge. Together these processes shape how ITS as a whole comes together to solve problems, both large and small. All ITS staff members were required to learn the basics about each one, so even if they are not directly involved in service management, they are now able to understand and support colleagues who are.
"Moving to TeamDynamix was a great opportunity to reset and improve the processes that ITS uses to serve all customers" said Rhian Copeland, assistant director of Support Services for ITS. "In addition to handling tickets, our new service lifecycle process establishes consistent steps to ensure that we always deliver a quality customer experience as ITS services evolve."
ITS embraced a new service lifecycle process to govern more than 40 major service changes last year, including 15 new services and 3 retirements. The lifecycle processes tap several newly established (or re-established) strategic, cross-organizational groups to guide each change. Incorporating voices from larger groups with diverse perspectives, expertises, and technology areas upfront creates a significantly better experience for our customers when the change is implemented.
Equipping campus with tools geared for customer service
From the onset, ITS saw benefits of offering TeamDynamix to the university as a fully-supported service. Its features, including a ticketing system and project management tools, have utility beyond IT. The demand for flexible online collaboration to make remote work successful only heightened the need.
The TeamDynamix license covers the entire university —Ann Arbor, Dearborn, Flint, and Michigan Medicine—with no additional charge. For units who don't need an entire ticketing application, ITS offers a shared application supported by ITS. Twelve units in addition to ITS are already using TeamDynamix today, including the College of Literature, Science, and the Arts, Shared Services Center, Facilities and Operations Information Services, School of Dentistry, School of Education, School for Environment and Sustainability, and University Finance, with more on the way.
"The shift to TeamDynamix could not have come at a better time for the SSC, in spite of a pandemic," said Pam Gabel, executive director of the Shared Services Center. "Our previous ticketing application was certainly a good choice and met our early needs, but change was hard and we had outgrown the ability to continually improve. TeamDynamix fits perfectly into our culture of continual improvement and offers options that were not previously open to us for increased collaboration, transparency, and improved operations."
The Shared Services Center began using TeamDynamix in August. They launched with 56 email integrations, over 250 forms (including more than 40 customer-facing forms), and more than 660 services across three TeamDynamix ticketing applications. SSC staff prefer the uncluttered interface and feel that it is easy to find information. Teams are discovering workflow and automation functionality, allowing more time for day-to-day work and less time spent updating tickets.
Learn more about the features and capabilities available in TeamDynamix.
More to come in 2021
ITS and many members of the same committed project team are working on a number of projects in 2021 to carry the momentum into the second year. One of the biggest priorities in 2021 is supporting areas that need to migrate off MRequest, also known as FootPrints, by December 2021.
"It takes consistent hard work to deliver quality customer service," said Bob Jones. "ITS continues to be committed to providing proactive, laser-focused customer service to campus. And it is a great advantage to have TeamDynamix available so that units across campus can collaborate and transfer tickets with one another to better serve the entire community."