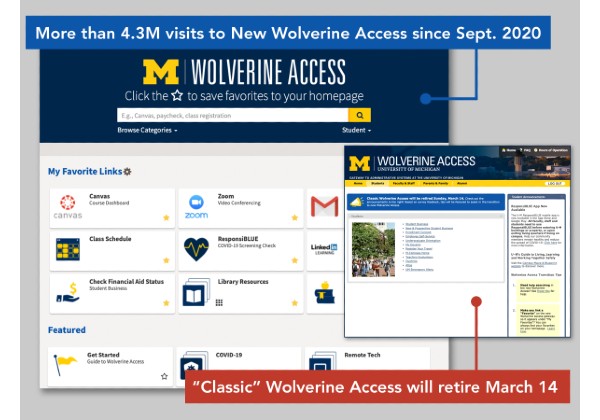 The transition to the new Wolverine Access gateway has been successful. New Wolverine Access has had more than 4.3 million visits since it launched on September 27, 2020. It provides individuals a personalized experience with quick and secure access to the many U-M tools and systems used for school, work, and other university activities. ITS is now moving into the final phase of the project with the retirement of "classic" Wolverine Access.
ITS will retire the 16 year old "classic" Wolverine Access on March 14, 2021. The option to use the "classic" version of Wolverine Access has been available since September while the university acclimated itself to the look and functionality of the new Wolverine Access platform. The U-M Community will move forward using the new Wolverine Access knowing that its secure and modern platform meets their diverse and evolving technology needs.
ITS will continue to make ongoing improvements to Wolverine Access based on user-submitted feedback. Read more about recent and future updates and find support materials and documentation on the ITS website.