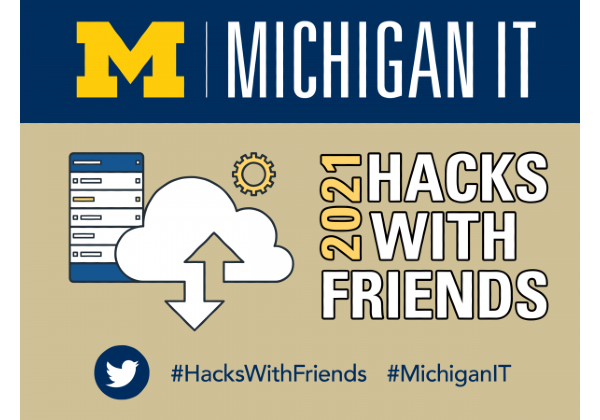 Mark your calendars and make plans to participate in the 2021 Hacks with Friends (HWF). This year's event will take place virtually over the course of the first three Fridays in May 2021 (May 7, 14, and 21).
HWF is a spirited event open to any and all University of Michigan IT and technology professionals and advocates, regardless of role. Project managers, analysts, developers, UX designers, documentation specialists, designers, security specialists, trainers, desktop support specialists, cheerleaders, or whoever else you are…We invite you to be a part of this "hackathon." Pick up new skills, make new connections, and explore new technologies and innovative ways of providing IT services. The only limit is your imagination.
Call for proposals
Do you have an idea for a hack? Pitch it to us! Pitch proposals must be submitted online by the end of the day, Wednesday, March 17. You will need to briefly describe the concept, list the skill sets that you are looking for to be successful, create a short video, and fit your pitch into one of the five 2021 HWF categories:
Accelerating Research: Explore ways to tackle challenges around enabling cost-effective and at-scale provisioning of on-premise and cloud-based computing, storage, networking, and visualization services and tools.
Business Administration: Explore how to leverage technology in business offices to provide solutions to eliminate routine, mundane tasks, provide improved interfaces, enable integrations between key systems, or remove redundancies.
Cybersecurity: Explore new tool sets that will ensure university assets are secured in this rapidly evolving field.
Diversity, Equity & Inclusion (DEI): Explore technological solutions to ensure that each member of the U-M community is given full opportunity to thrive.
Sustainability and Carbon Neutrality: Explore how U-M can reduce its carbon emissions to levels that are environmentally sustainable.
Other: Your own original idea related to a specific discipline, the university, or its mission.
Visit the Hacks with Friends website page for specific event pitch submission information.