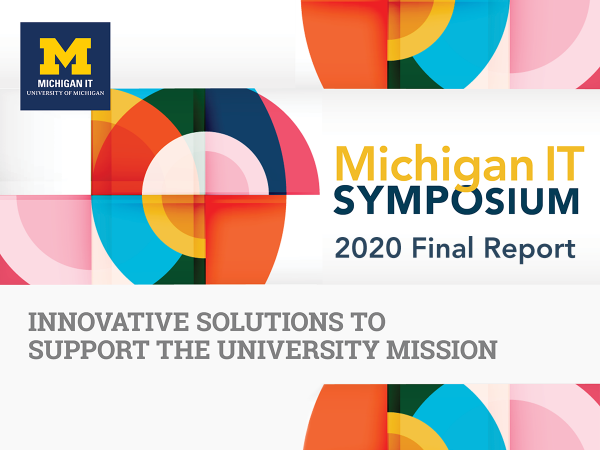 A comprehensive final report on the first virtual Michigan IT Symposium is complete. Videos of all breakout sessions have been posted to the 2020 Michigan IT Symposium website. You are invited to watch sessions you may have missed and share posters and presentations from the event with your network to help promote the depth and breadth of knowledge and skill within the Michigan IT community.
Following is a summary of the final report, highlighting statistics gathered from this year's symposium and feedback received from the post event survey.
The seventh annual Michigan IT Symposium was sponsored by Ravi Pendse, vice president for IT and chief information officer, and chaired by Mashon Allen and T. Charles Yun to:
Strengthen and build collaborative partnerships across the Michigan IT community
Build connections between Michigan IT and industry colleagues
Learn about ways IT can support and has adapted to a changing work environment
Recognize innovations in supporting faculty and students across Michigan
Driven by the realities of the COVID-19 pandemic, the 2020 Michigan IT Symposium was reenvisioned to capture major facets of past symposiums in an online delivery method, with minimal costs. The event featured a welcome and leadership message, keynote conversation with Zoom CEO, Eric Yuan, and 47 posters and 18 breakout sessions, representing 21 units from across U-M.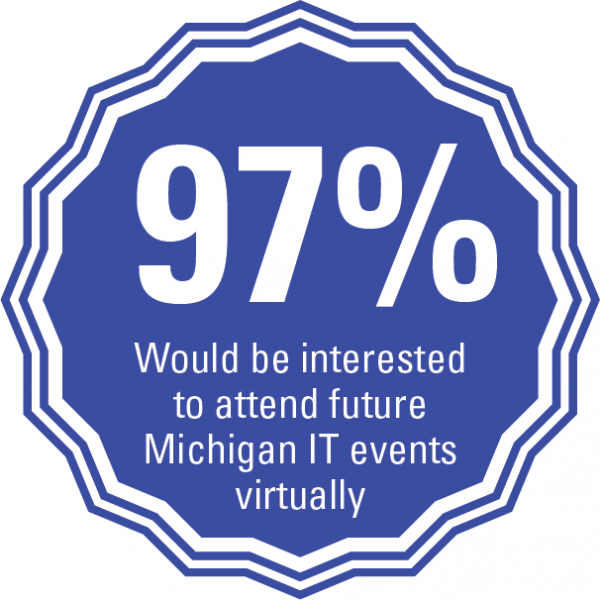 Overall, the virtual format was well received by attendees. The 2020 Symposium set a new record with 720 attendees, a 129% increase from the event's previous high of 560 in 2017. In a post-event survey, 97% of respondents would be interested in attending future Michigan IT events virtually, and 99% plan to attend the 2021 Michigan IT Symposium.
As the first virtual symposium we learned:
There is an ongoing strong desire for the Michigan IT Symposium from a broad spectrum of the community.
Holding the event virtually over multiple half-days allowed more people to engage in breakout sessions that fit into their schedules.
Networking is a key element from previous in person events that was missed and should be designed into virtual events.
A new planning approach was necessary for a successful virtual event.
A final report provides a full profile of the planning and execution of the event, as well as helpful feedback from attendees and recommendations for future events. The planning committee recommends to offer a 2021 symposium and continue to grow the event participation.