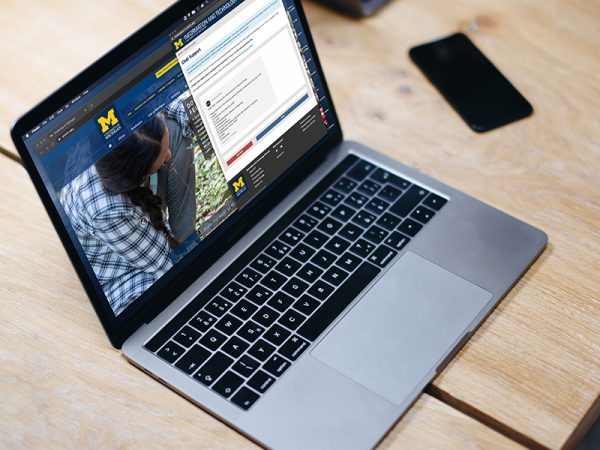 Long before the pandemic started, chatting in real time with an agent at the ITS Service Center was one of the quickest ways to get answers about tech. This became even more important when so much of our everyday lives moved online.
"The ITS Service Center is serious about growing and adapting to the changing support needs of our community, and we're demanding that same kind of commitment from our tools," said Phil Ray, assistant director of ITS Service Center and Operations.
On December 7, 2020, the ITS Service Center moved to a new chat tool to improve the quality of support their agents can provide to the community. After evaluating several competitors, they chose Amazon Connect Chat, which is in the same ecosystem that has supported their phone customer support since July 2019.
Moving to the same platform for both phone and chat will give the Service Center the flexibility to innovate in the future, save agents time, and streamline management activities. Future automation, chatbots, and integrations with TeamDynamix will free up time for agents to focus on what they do best: answering customer tech questions and problem solving. While seemingly small, when multiplied by more than 2,000 chat sessions and 6,000 phone sessions in a typical month, the benefits are significant.
The new chat service was rolled out after an extensive after-hours pilot that began in May 2020. In partnership with ITS Tech Consulting, the Service Center offered extended support hours for password and Duo Two-Factor Authentication assistance. Nearly 1,000 chat instances were initiated during this pilot timeframe.
Meeting demand with the right technology
The project to replace the chat service is a step in the larger effort in ITS to seek ways to improve the way we serve the U-M community by providing proactive, laser-focused customer service. To date, that larger initiative has driven improvements ranging from how ITS delivers new services to optimizing tools used in customer service—including retiring ServiceNow and introducing TeamDynamix as the IT Service Management (ITSM) tool at U-M. The university community is better served when customer service staff are equipped with modern, well-supported, and thoughtful tools.
"Amazon frequently releases improvements and new features for their Connect contact center service," said Ray. "It can leverage services in the AWS ecosystem and we're able to integrate with other systems like TeamDynamix. We can count on this platform to deliver improvements for the customer experience, as well as new features that empower our staff."
Next time you have a question for ITS, try out the new realtime chat and let us know what you think of your experience!
"I really liked using the chat feature to ask a simple ITS question. It was quick and I didn't need to send an email and wait for an answer."

– a Life Sciences Institute staff member with a Microsoft Office 365 question
"Best service is through the live chat where the problem is addressed immediately….The chat feature got me the help I needed quickly and the problem was resolved within an hour."

– an LSA faculty member seeking assistance with Canvas