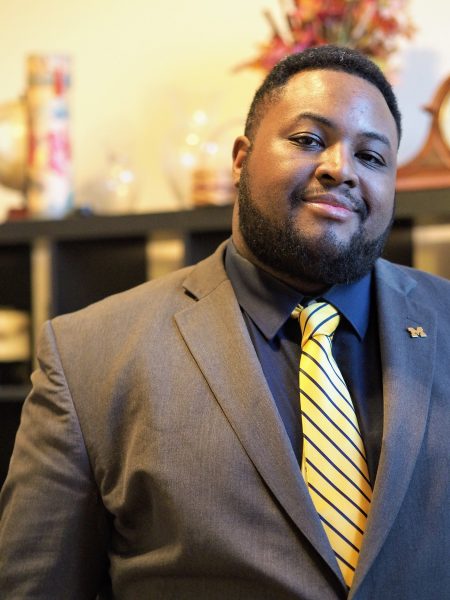 With over 15 years working in IT, Ryan Henyard has spent his career leveraging technology to improve the education experience for students. He has moved through the IT world, first as a student working for ITS (then known as ITCS), to the U-M Medical School Canvas administrator, and now as the faculty experience designer for the Center for Academic Innovation (CAI). He also serves as the DEI co-lead for CAI, and actively works to incorporate diversity, equity, and inclusion concepts into education goals and learning objectives for the projects he consults on.
How does your work impact the university?
A number of the projects I've been working on throughout my career focus on underserved communities both at U-M and beyond, with the intent of making sure those voices are heard as new learning experiences are developed.
I have been actively working to broaden and diversify the definition of the types of people that we think of as innovators. Creating new forms of public engagement with diverse communities, exploring the intersections of technology and racism, and extending access to educational resources all count as innovation in my book. For example, I'm currently partnering with faculty on a Teach-Out on Feminism for Women's History Month in March. The Police Brutality in America course I hosted and led design for has been expanded into a Community Awareness Course on Coursera. In both of these learning experiences, we took additional steps to elevate knowledge and perspectives from community leaders alongside our faculty experts.
How does Diversity, Equity and Inclusion (DEI) intersect with technology?
DEI gives us important questions to ask, such as whose voice is not being included. Take accessibility for example. You'd want to look at what needs to be adjusted like meeting policy, or thoughtfully selecting event venues that are accessible. We want to give folks equal access so they can fully participate and contribute, both in person and virtually. It is hard to praise the university's pivot to online learning and meetings without acknowledging that these exact accommodations were often denied to disabled learners. I ask myself in what other ways can we acknowledge harm, including those impacted, when developing solutions and credit their expertise as we create new learning tools and environments?
When CAI develops software for courses, we are careful to ask ourselves if we have enough voices from different communities. With whatever we develop, we ask how this might be perceived from the outside looking in, and what we want to do about it.
We can use technology to further DEI goals. For example, now that we are more comfortable with technology for teaching and learning through online classes, how can we use technology to expand curriculum for underserved students? How do we consider online safety and what does safety mean for faculty and collaborators, such as protecting them from trolling, providing guides and decision trees for content moderators and offering a channel for reporting sexist or racist comments.
What advice do you have for people as they design systems and services?
Think about sustainability, think about risk, and be sure to include DEI concepts. There is motivation to embrace DEI because a product that is designed to work well for everyone becomes a core service or project that benefits more users and is overall more useful for everyone. When thinking about risk, make sure the system or service you're designing meets the needs of the primary audience, but also gets tested by people from different backgrounds. It's much harder to retrofit something than to build it properly from the beginning, but it's never too late to retrofit to make something more useful for people.
What are some things you do to take care of yourself?
During the pandemic, I've found meaning in fundraising and creative projects. I raised funds for the American Cancer Society as a Real Men Wear Pink ambassador, and joined the board of Avalon Housing, a nonprofit that provides supportive housing services in Washtenaw County. I created a community giving guide that focuses on organizations that support things like homelessness and eviction defense. I also enjoy nature photography and printmaking (block prints). Both are soothing and offer a needed analog hobby so I can take a break from screens.
What do you enjoy most about your job?
Being able to make things that help communities that I care about as part of my "day" job and being able to focus on things that I care deeply about. I'm grateful to CAI for giving me the support to move forward with these projects.
What is the most important aspect of working in IT?
The biggest resource as an IT community is the network of each other. There are many people who stay at the university for decades and share that knowledge. We can accomplish so much when we find ways to connect with people and spend time getting to know others including the customers we serve and other IT professionals in other departments. Much of my career has been reintroducing connections to the Michigan IT family.