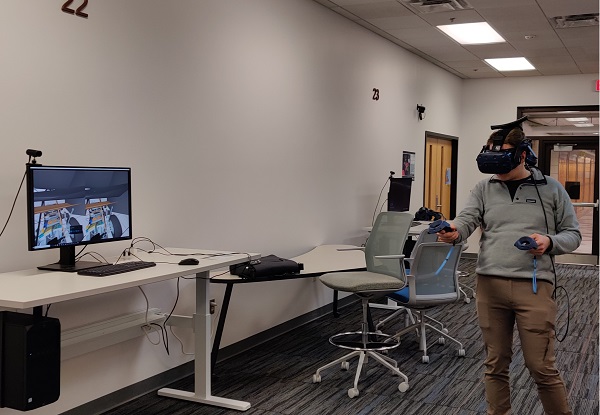 What do you get when you combine race cars and extended reality (XR)? If you said a modded version of "Grand Theft Auto" you'd be wrong. The correct answer is: U-M's award-winning Michigan Electric Racing Team (and CAEN's John Hufnagel).
Hufnagel is the lead MCAD applications analyst for CAEN, the IT services department for Michigan Engineering. (MCAD is Mechanical Computer Aided Design). His role within the organization is to provide support for industry leading product design and simulation software used by companies like Ford, General Motors, and Boeing to build cars and airplanes.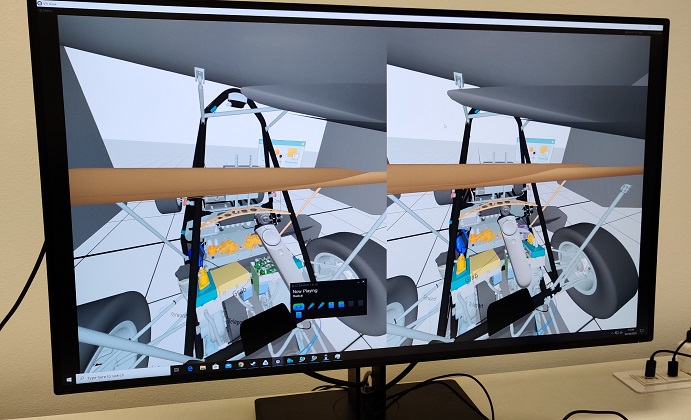 "Our goal is to provide CoE students with experience using the same tools industry uses to help increase the value of the education at CoE," says Hufnagel. So, as software vendors began to add XR capabilities to their products, CAEN launched its XR initiative several years ago and began looking for ways to integrate the new XR capabilities within select classrooms and labs.
Which brings us to race cars.
In addition to software support, Hufnagel provides in-person support at the Wilson Student Team Project Center, a dedicated space for over two dozen student engineering and design teams, such as the Michigan Mars Rover Team, the Solar Car Team, and Michigan Electric Racing, a student team that uses technical innovation and advanced engineering analysis to build formula-style electric race cars.
CAEN soon realized the advanced students working in the Wilson Center could benefit greatly by having access to XR technology. "When the industry leading tools started to incorporate XR capabilities my interest was piqued in how these project teams could use XR as part of their work," says Hufnagel. According to Hufnagel, the MRacing team in particular has embraced the technology. "They checked-out a VR headset, moved a chair into position, and sat in VR surrounded by their vehicle," he said.
According to engineering student and MRacing team member Max Meyerson, the team has leveraged XR to aid in their design process. They used a VR environment to verify clearances within the cockpit, and to assess the engine compartment for shroud removal and efficient wire harness routes.
For Hufnagel, collaborating with groups such as the MRacing team is a natural extension of the ongoing work CAEN has been doing for the exploration and insertion of XR within the CoE curriculum. As a result, other groups at the center can now also access VR for their projects. "Through my interactions with the MRacing team and knowledge of CAEN's XR initiative, we've been able to provide all of our competitive teams with XR enabled locations that support their engineering workflow," he said.