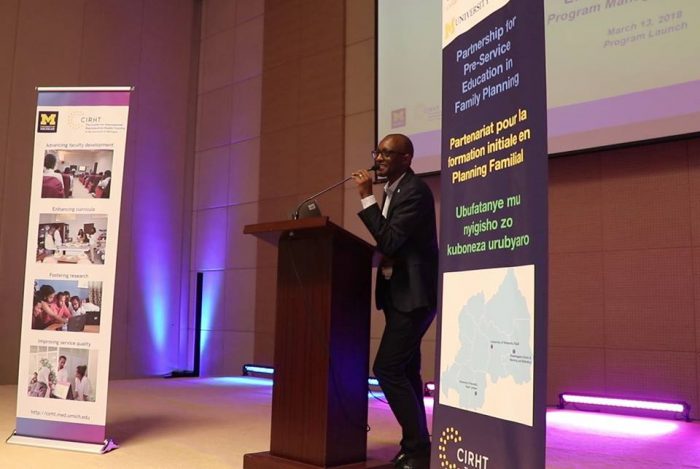 In October 2017, Michigan IT News reported on videoconferencing that enables clinical education in Ethiopia as part a project led by Center for International Reproductive Health Training at the University of Michigan (UM-CIRHT). The year after, UM-CIRHT launched a two-year project with the University of Rwanda. The partnership strengthens family planning training and builds student and faculty capacity to provide essential reproductive health services throughout the country.
Rwanda has been steadily investing in technology and infrastructure, and the University of Michigan is there to support their IT and educational programs for medicine, OBGYN residency, midwifery, and nursing. UM-CIRHT staff and faculty advisors travel to University of Rwanda several times a year to provide peer mentorship at its five training sites. One of those staff members is Bob Riddle, software engineer lead, who has a split appointment with UM-CIRHT and Health Information Technology and Services (HITS).
"I mentor IT engineers in the training, testing, and setting up of the infrastructure," says Riddle. "BlueJeans is again our videoconferencing tool of choice, as it was in Ethiopia. It wonderfully enhances the University of Rwanda's education program. Users can have broadcast events, host meetings, hold live chats, amongst other things."
Riddle also set up a repository of educational materials so that they are available even if the internet connection is unavailable. Additionally, Riddle keeps in mind that most of the people using these digital collaborative tools are health professionals and health students—not tech people—so he makes everything easy to use and maintain. "IT enables important, positive, life-saving work. I'm proud to lend my expertise to UM-CIRHT programs," he added.
In January 2019, U-M began requiring two-factor (Duo) authentication for Weblogin for all current faculty, staff, student employees, and sponsored affiliates. The UM-CIRHT team discovered that their collaborators in both Ethiopia and Rwanda could easily set up Duo. They have been able to use it successfully when they launch BlueJeans, and authentication works with international mobile numbers.