Information and Technology Services (ITS) continues to work with BlueJeans Network to deliver industry-leading videoconferencing, content sharing, and real-time video to the University of Michigan.
BlueJeans is U-M's preferred conferencing service and is available today at no extra cost to your unit.
What's new
The updated desktop app, version 2.8 for Windows and Mac, is designed for speed and simplicity. A visual refresh brings an interface that is modern and intuitive. The app includes core features of version 1.0, with more in development. Video Sharing and Remote Desktop Control will be coming soon. Features include:
Customizable layouts — Choose the layout that best fits your need in each meeting
Screen-Share-Only mode — Join meetings solely to participate in content sharing (without audio or video)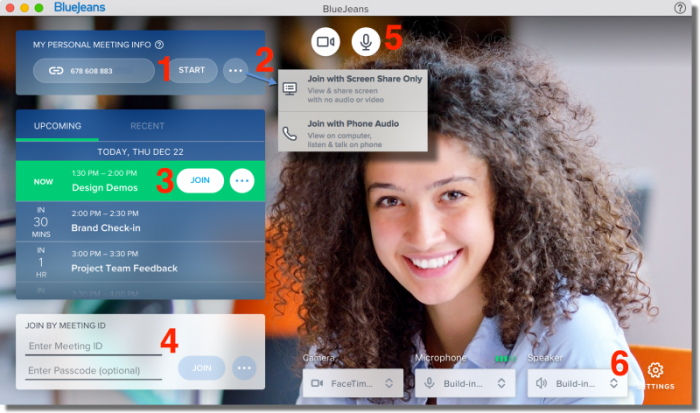 There are multiple ways to join a meeting from the new App Dashboard (pictured above):
Click to start your Personal meeting , or
Click for two more join options: screen share only mode, or, using your phone for audio, or
Hover over an upcoming meeting to view meeting details. Click the join button to enter, or
Manually enter a Meeting ID and passcode (optional) and click Join to enter another meeting
Before joining the meeting, you have the option to adjust your settings:
Mute your camera or mic before entering the meeting, if needed
Click Settings to select your device (camera, mic or speaker), to make sure the right one is in use
Read more about the updated app: support.bluejeans.com/knowledge/bluejeans-app-overview
How to get started
Register for an account at umich.bluejeans.com and click Login.
Install the software

If you are using a MiWorkspace-enabled machine, visit the MWS Software Center to install BlueJeans. Instructions for Windows users and Mac users.
On your personal device, visit bluejeans.com/downloads. Click download, open the installer, and follow the prompts.
Michigan Medicine users will have the updated software installed automatically on their managed devices.

Log in with the U-M BlueJeans account you created in step 1.
Note: BlueJeans requires special permissions with macOS Mojave. Learn more.
Looking for training or support? For information about training resources, email HDVideoconferencing@umich.edu. For support, contact the ITS Service Center. Units that are outside of the scope of ITS, or that need classroom BlueJeans support, should contact their local units. Michigan Medicine users should contact help.medicine.umich.edu (Level 2 needed) or 6-8000.
For large-scale events
A special type of meeting, called BlueJeans Events, are not yet integrated into BlueJeans version 2.8, but a separate app is available—visit bluejeans.com/downloads and scroll down to Tools. Participants can also simply join BlueJeans Events from a web browser. BlueJeans Events provide a more controlled environment in which moderators can mute or promote presenters and stream to thousands of passive viewers.