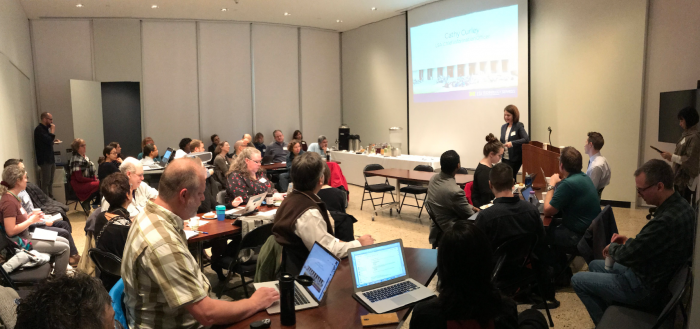 The term digital scholarship can be interpreted in many different ways. As defined by Wikipedia, it means ". . . new ways of doing scholarship that involve collaborative, transdisciplinary, and computationally engaged research, teaching, and publishing. It brings digital tools and methods to the study of the humanities with the recognition that the printed word is no longer the main medium for knowledge production and distribution."
However one chooses to define it, it represents an increasingly important and exciting area of teaching and learning, both here at U-M and across the educational landscape at every level.
This past January, LSA Technology Services worked with a campuswide grassroots collective of digital scholarship support partners to sponsor Connecting Digital Scholarship, an event for faculty, graduate students, and staff from across campus to share their experiences, goals, and future interests in this area.
A variety of faculty speakers presented projects that exemplify the effort and teamwork necessary for success:
Lisa Nakamura spoke about her American Culture 358 Course, "Special Topics in Digital Studies: Virtual Reality and Empathy." (Read more about this effort.)
Cindy Lin Kayling from the School of Information spoke about feminist lines across disciplinary domains in "Precarity Lab."
Ben Paloff from Slavic Languages & Literatures shared his explorations with focalization while writing a non-linear novel.
Nic Terrenato from Classical Studies discussed the "Book Unbound" project and the challenges with multimodal composition.
Jason Young from History spoke about experiences with incorporating digital assignments with "History 260."
The event closed with a facilitated discussion about how to better connect scholars and support partners and was successful in creating connections that are still growing today. To learn more, read the event presentations.
---
(LSA Technology Services' Joe Bauer, Teresa Horton, Peter Knoop, and Jan Stewart contributed to this article.)