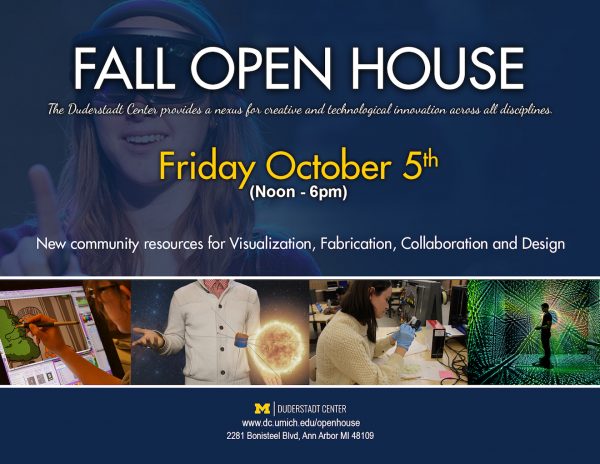 The Duderstadt Center provides a nexus for creative and technological innovation across all disciplines. Come see what new resources we are unveiling for the fall semester, available to the entire University of Michigan community!
This is your first opportunity to experience the all new Visualization Studio, a powerful digital maker-space equipped with high end virtual reality development workstations, play areas and 3D modeling tools. Staffed by industry experts with a proven track record of successful augmented and virtual reality development in grants all across campus. Come experience the MIDEN, a 10'x10′ immersive virtual reality room, and see how instructors and students are using VR as a platform to revolutionize teaching and learning.
Our recently unveiled Fabrication Studio is also available, equipped with an assortment of high end and self service 3D printers, laser cutters, electronic workbenches and a variety of hand tools. We will also soon be re-opening a freshly remodeled Design Studio this winter—come see what will soon be a creative hub to suit all your artistic needs. Light tables, down shooters and a Hollywood MOCAP system for animation, large format scanners and photography tables, smart displays for iterative design and ideation, and various drafting/drawing tools.