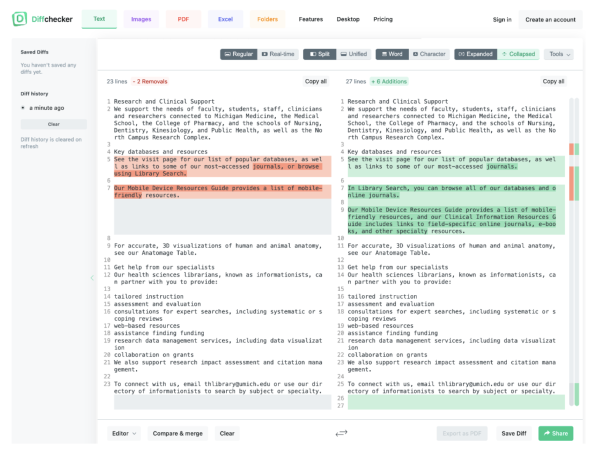 This month, I'm sharing a website that offers a simple and easy-to-use tool for comparing the differences between two pieces of text: Diffchecker. It can be used to compare two versions of a document, check for plagiarism or spelling mistakes, and much more.
Diffchecker works by highlighting the differences between two pieces of text and allowing users to quickly identify the changes or similarities. The website also offers a variety of other features, including the ability to compare images, PDFs, spreadsheets, and other file types. It's a highly useful tool that can be used by anyone who needs to compare text or documents quickly and easily. If you find it especially helpful, a paid desktop app is also available.
Do you use software to compare different versions of files? Please share in the comments below!
---
Have a cool app, tool, or tech tip you'd like to share? Contact Chase Masters. Please note that Tech Tips are personal recommendations and might not be officially endorsed or supported by U-M.