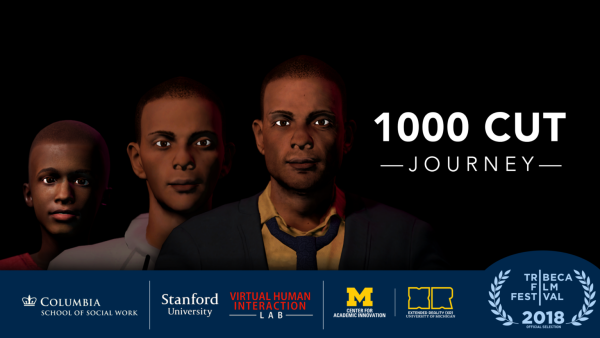 Assistance from the XR team at the University of Michigan Center for Academic Innovation has helped bring to life 1000 Cut Journey, a new virtual reality experience that immerses users in the life of a fictional Black man in America. 1000 Cut Journey aims to provide users with deeper insights into the microaggressions and racial injustices Black Americans experience and bring awareness to the effects this discrimination can have on a mental and physical well-being.
Created by associate professor at Columbia School of Social Work Dr. Courtney Cogburn and Dr. Jeremy Bailenson, as well as a team from Stanford University's Virtual Human Interaction Lab, the experience was initially made available on the Oculus store thanks to support from the XR team at the University of Michigan's Center for Academic Innovation.
1000 Cut Journey places users into the shoes of Michael Sterling at ages 7, 15, and 30, and allows participants to experience situations they might not have encountered before. These situations include encounters with racial discrimination in various settings from the classroom to the workplace, as well as encounters with law enforcement.
Dr. Cogburn wanted to bridge the experiential gap between how people of color and white Americans understand racism and how it contributes to racial health disparities. The immersive experience draws from various sources— including some of the creator's personal experiences with race alongside published research and stories from social media —with the goal of helping white Americans better comprehend the impact of racism on people of color.
The experience was originally built on a Vizard platform, which the U-M team rebuilt into Unreal Engine, updating the VR experience to make it more accessible to users in the process, expanding its availability to a wider audience. It is now available for download on the Meta Quest Store for use on Meta Quest 2 headsets.
The developers were challenged to preserve the experience's original intent while making the necessary changes. The U-M XR team strived to ensure the flow, aesthetics, and timing of the experience remained as close as possible to the original version.
The creators acknowledge that while no singular media experience can eradicate racism, they hope that 1000 Cut Journey will help to change the conversation, promote empathy, and provide new perspectives. Together, virtual reality and the Center for Academic Innovation provide a unique and powerful platform for fostering a deeper understanding of racial injustice and the challenges faced by Black individuals in America for the team to accomplish this goal.
Article summarized from the Center for Academic Innovation: The (Virtual) Reality of Life as a Black Man in America Explored in New Immersive Experience.