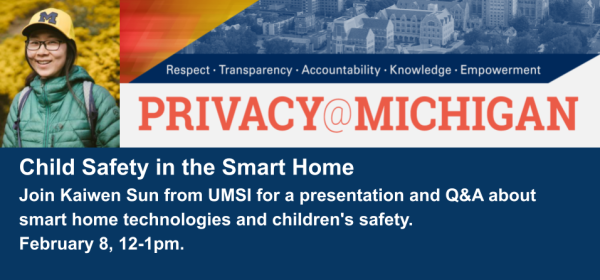 "We are all now datafied – but children growing up today are among the first to be datafied from birth." This statement from the Children's Commissioner for England's 2018 report is the backdrop for UMSI Ph.D. candidate Kaiwen Sun's research into child safety in the smart home. She showcased her most recent work, focused on the intersection of children's privacy and safety, smart home technologies, and human-computer interaction, in a thought-provoking presentation as part of the 2023 Privacy@Michigan event series.
As Sun walked the audience through a sample of the Internet-connected tech in the homes of families with kids, she highlighted the physical, psychological, and social impacts on children. "A smart home is a home first," Sun posited and shared parents' evolving safety and privacy considerations as their children grow up around smart devices and appliances. Today, parents are the sole gatekeepers for children's safety and privacy and Sun believes the responsibility should be shared by smart-home companies. Her research shows that these companies' marketing strategies capitalize on images featuring kids interacting with or being near smart tech in the home, but most claim their products are not directed to children under 13 and they do not knowingly collect children's data. Very few companies provide parental controls and child safety features and resources.
Laws and regulations requiring companies to address children's safety and privacy in Internet-connected products are just starting to emerge, so the UMSI researcher recommends that parents continue to:
Be more aware, stay informed, and take action as consumers by supporting companies that invest in child safety and privacy.
Think about how decisions around technology use in the home affect children.
Have age-appropriate conversations with children about safety and privacy as smart devices are introduced in the home.
"This was my first time considering all the different implications of the many home smart tools we're introducing into our homes," shared one attendee.
Looking ahead, Sun plans to pursue the creation of a smart home mechanism that supports parent-child engagement; you can follow her research on her website.
The Privacy@Michigan event series is hosted by the University of Michigan School of Information and ITS Information Assurance. It brings together faculty, researchers, students and staff from different colleges, schools and units across campus and aims to spark ongoing, multidisciplinary conversations about privacy's role in society—here at U-M and worldwide.
To access information and resources on privacy, visit the Privacy section of the Safe Computing website and be sure to check the Safe Computing calendar for cybersecurity and privacy events of interest to the U-M community.