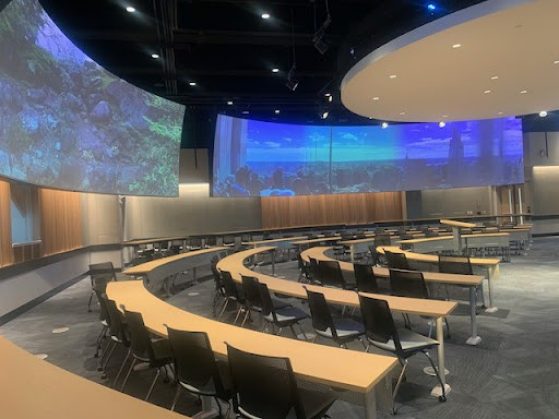 The 2022 winter semester included the debut of the Central Campus Classroom Building (CCCB), a new building containing seven classrooms that encourage innovative instruction. The most unique of these new rooms is the Classroom in the Round (CCCB 2420), which welcomed students and faculty in the 2022 fall semester.
The Classroom in the Round can seat 190 students, surrounding the instructor who is stationed at the center. Four 42-foot-long screens encircle the students and instructor.
The design of the room, along with the technology, allowed for students to learn in different ways than in the standard lecture hall. The circular shape of a room means that the furthest a student is away from their instructor is just five rows. Rows are also wider, allowing for instructors to easily move through the space and create greater intimacy within the learning community.
The technology in the Classroom in the Round
While the physical space alone is impressive, the technology available in the Classroom in the Round continues to encourage innovative instruction.
Each of the four curved screens uses three projectors, blended together to create one cohesive large image.
LSA Technology Services created presets that are useful for instruction: a single projected image for normal slides, two or three projected images to showcase multiple slides at once, or ultrawide.
The large screens allow for multiple images/slides to be displayed at once, a feature that 93 percent of students found beneficial to their learning. For example, one third of a screen could display a slide with text, and two more slides on the same screen could display images related to the text.
Members of LSA Technology Services met with every instructor who would teach in the room. Aside from basic training, the goal was to facilitate both what instructors currently do in the room, and what they would like to do in the future, given the new opportunities provided by the technology and unique layout of the Classroom in the Round.
One interesting use of the space and technology came from a dance class. The room allows for three wireless video sources, meaning three different computers, iPads, or phones could project simultaneously on the screen. The dance course utilized this feature by having a student dance in the center of the room, while three students used their cameras to film the dancing student from different angles. All three students could then project to screen, allowing for the student's movement to be viewed from multiple angles at once.
LSA Technology Services is excited to see how instructors and students continue to use both the layout and the technology of the classroom in future semesters.
Read the full article on the LSA Technology Services website.