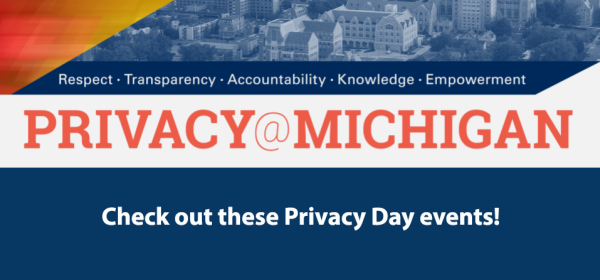 Data Privacy Day (Data Protection Day in the EU) is on January 28! To celebrate at U-M, ITS Information Assurance (IA) is hosting privacy events throughout February. These sessions are intended to raise awareness, promote best practices, and provoke thought and conversation on privacy topics broadly relevant to our community members and society at large.
February 8, 2023, 12 p.m. – Child Safety in the Smart Home: Presented by Kaiwen Sun, a Ph.D. student at the University of Michigan whose research focuses on the intersection of children's privacy and safety and understanding parents' perceptions and behaviors around privacy and safety in the context of smart home technologies. This event is open to the U-M community (UMICH [Level-1] login required), and will be especially relevant to parents, grandparents, guardians, and others who interact with children in their homes. This event will not be recorded.
February 17, 2023, at 11 a.m. – Privacy Keynote on Technology, AI, and Ethics: Register to join the 2023 Privacy@Michigan keynote with Dr. Kirsten Martin. Dr. Martin is the Director of the Notre Dame Technology Ethics Center and the William P. and Hazel B. White Professor of Technology Ethics and Professor of IT, Analytics, and Operations in the Mendoza College of Business at the University of Notre Dame, where she hosts the podcast TEC Talks. Dr. Martin is a University of Michigan College of Engineering alumna and we are thrilled to welcome her back on the Ann Arbor campus. This event will be hosted in-person, live-streamed, and recorded.
Refer to the Privacy@Michigan event page for more details and to register for the Privacy@Michigan keynote. Be sure to check the Safe Computing calendar for cybersecurity and privacy events throughout the year.