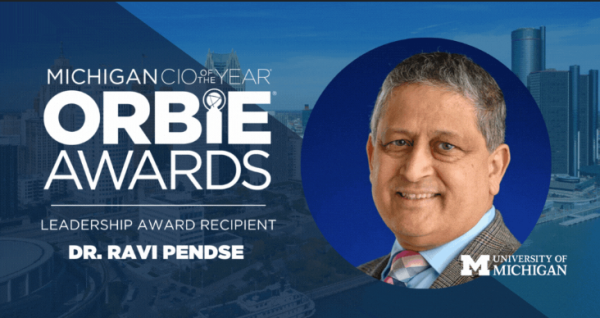 Update 10/26/2022: Pendse, Curley, and Shumaker won ORBIE awards.
The Michigan CIO Leadership Association (MichiganCIO) recently announced that Ravi Pendse, vice president for information technology and chief information officer, will receive the 2022 MichiganCIO Leadership ORBIE Award on Friday, October 21, 2022, at The Henry, 300 Town Center Drive, in Dearborn.
"I am humbled to receive the ORBIE Award in leadership," said Pendse, "as it comes from peers and it celebrates the achievements of the entire IT community at U-M.
"I am lucky to do what I am passionate about and to work for colleagues and amazing staff who understand the value they bring to the university. We are able to deliver technology and services that ensure our great institution achieves and surpasses its mission and goals. I am thankful for their diligence, and I graciously accept this recognition on behalf of them and the outstanding work they do."
More Michigan ORBIE Award winners will be announced from among 24 finalists, including four representing U-M: Cathy Curley, LSA; Carrie Shumaker, UM-Dearborn; Daniel Waltz, U-M Health; and Joshua Wilda, Michigan Medicine.
The award is given annually to a current or former CIO who has made a positive impact on the Michigan technology and business environment.
For over 20 years, the CIO ORBIE Awards have recognized technology executives for leadership, innovation and excellence in this rapidly growing, CIO-led national professional association. The Michigan CIO ORBIE Awards honors CIOs who have demonstrated excellence in technology leadership. CIOs are typically recognized in multiple categories, based on the size and scope of their organization and responsibilities.
Finalists and winners are selected through a rigorous, independent judging process led by prior ORBIE winners. The ORBIE signifies exceptional leadership, innovation, and vision; representing the characteristics and qualities that inspire others to achieve their potential.
Pendse won an ORBIE in the nonprofit/public sector category in 2020, and was nominated for the national award in 2021.
Read a related article from Crain's Detroit Business, "Seeing life as a learning experience drives University of Michigan VP and CIO."