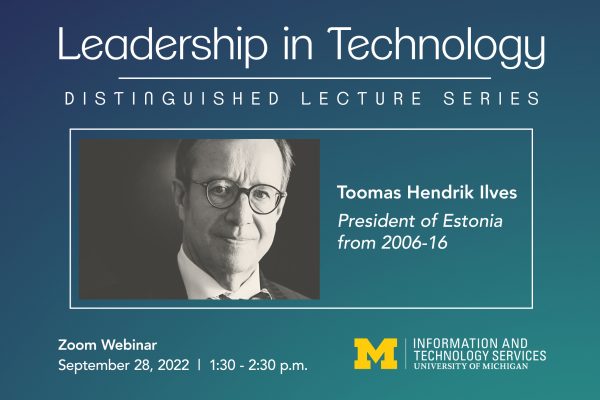 In 2007, the world's first known state-level cyberattack occurred. Russia was offended that Estonian President Toomas Hendrik Ilves had approved the removal of a statue, a relic of the Soviet Union and the Russian occupation of the country. So they took to the virtual world for their revenge.
"Online services of Estonian banks, media groups and government agencies were taken down by massive waves of spam that overwhelmed our servers," Hendrik said in a recent Newsweek opinion article. "Cash machines and online banking services were put out of action, government employees were unable to communicate with each other, and newspapers and broadcasters could not deliver the news."
The impact of the attack was "seismic," Pres. Hendrik said. This shifted how world governments looked at cyber security, creating a new area of legislation and reminding people just how important their personal data was in the 21st century.
Now, he's sharing the story with the U-M community. Join Dr. Ravi Pendse, vice president for information technology and chief information officer at U-M, for a conversation with Pres. Ilves, the president of Estonia from 2006-16.
The event takes place from 1:30-2:30 p.m., September 28, on Zoom. The conversation will cover the intersection of technology and government, cybersecurity, and more. Registration is free. Students, staff, faculty, and community members are invited to submit questions in advance, during the registration process, or live in the session.
President Ilves is renowned for making Estonia one of the most digitally advanced nations through innovative policies that invested heavily in the future. He used his office to further the country's leadership in digital governance as well as in cyber security. His interest in computers stems from an early age — he learned to program at the age of 13 — and he has been promoting Estonia's IT-development since the country restored its independence. He was born to Estonian refugees and raised in the United States, and holds a BA from Columbia and an MA from the University of Pennsylvania.
About the Distinguished Lecture Series
The Leadership in Technology: Distinguished Lecture Series invites you to hear from industry leaders and find inspiration in their journeys as you embark upon your own path to challenge the present and enrich the future through the innovative use of technology.
Learn more about the event and see past speakers: its.umich.edu/speakerseries.