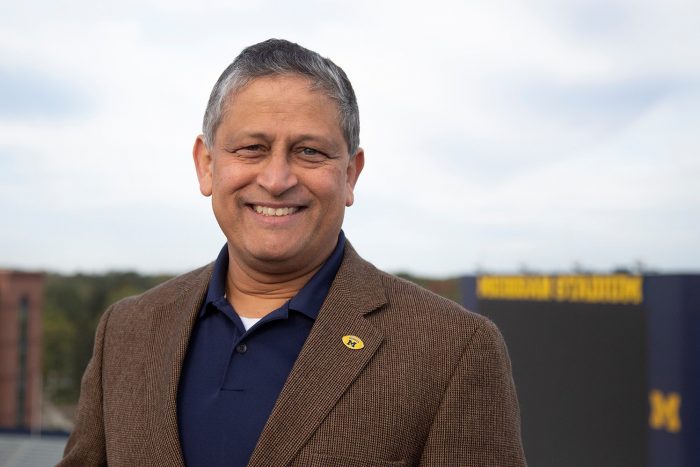 Greetings, everyone,
The energy on the U-M campus in September is hard to miss. Welcoming students back on campus is a joy and a privilege, and something I am particularly grateful for following the shift online early in the pandemic. I encourage you to pause and reflect on the hard work that you and your colleagues put in to prepare our campuses for a successful fall semester. This is no small feat that we collectively accomplish each year.
I hope to virtually see everyone at the next Distinguished Lecture Series: Leadership in Technology event on September 28, 1:30-2:30 p.m. We will hear and learn from Toomas Hendrik Ilves, who served as president of Estonia from 2006-16. President Ilves is renowned for making Estonia one of the most digitally advanced nations and has a lot to share related to digital governance and cyber security — and he was president when Estonia was victim of a massive cyber attack from Russia, in 2007. Our conversation will cover the intersection of technology and government, cybersecurity and more. Please be sure to register in advance for the distinguished lecture.
The Michigan IT Community was formed 10 years ago, and has since grown to be a unique and valuable part of working in technology at Michigan. Since joining U-M more than four years ago, I've witnessed firsthand how members of the community come together to learn, collaborate, and celebrate at annual events like the Michigan IT Symposium and Hacks with Friends. Our mentorship program and communities of practice have forged lasting, meaningful relationships that have real impact on our work. We have so much to be proud of.
The Michigan IT Steering Committee is proposing the following set of objectives to guide our community into the future:
Provide opportunities for people across U-M to develop and enhance technology capabilities and skills. Contribute to recruiting and retaining a diverse and inclusive community of technology professionals.
Help build and nurture relationships that support continuous learning and accelerate the creation of value for our University of Michigan community.
Explore and leverage new technologies, showcase novel/new/unique solutions, and collaboratively solve problems using innovative approaches.
Share and promote the impact provided by the U-M technology community.
The committee will seek feedback in the coming weeks. In the meantime, I would love to hear your thoughts for new ways for us to grow as a community. What opportunities would you like to see?
We have so many opportunities to look forward to this year. As always, take time to care for yourself and those around you. I hope you enjoy these last few weeks of summer weather.
With gratitude,
Ravi
Ravi Pendse PhD
Vice President for Information Technology and Chief Information Officer
University of Michigan
rpendse@umich.edu