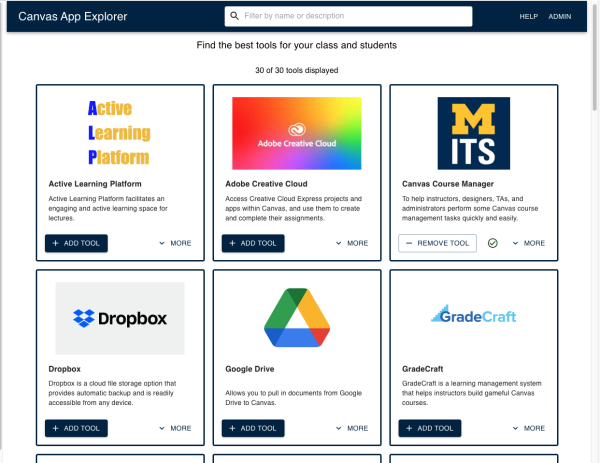 In the several years since Canvas became the university's primary learning platform, the ITS Teaching & Learning team has leveraged Learning Tools Interoperability (LTI), a standard that allows courseware and learning tools from different vendors to be launched within a learning platform, like Canvas. LTIs make available to Canvas users a significant number of external tools that can be added to a Canvas course. These apps provide a variety of new instructional features, alternate choices for existing Canvas tools, and helpful course management utilities.
Adding these tools, however, is not a well-informed and straightforward process. Many instructors are unaware of these apps, and even for those who know how to manually add an app, it's not always clear what each tool does and how it can be applied on a course.
Enter Canvas App Explorer!
On August 2, the ITS Teaching & Learning team released Canvas App Explorer (CAE) into the Canvas learning management system. CAE is a tool developed by the ITS Teaching & Learning team and integrated into the Canvas Learning Management System that helps course owners quickly and easily understand and select external applications that have been integrated into Canvas. It extends and supplements the core teaching and course management capabilities of Canvas and allows course instructors to quickly find an integrated app, understand the use and functionality of the app, add or remove the app with a single click, and view help documentation and other relevant support resources.
After adding Canvas App Explorer to their Canvas course, instructors are presented with a searchable interface in which they can see a scrollable list of app 'cards.' Entering an app name or other keyword in the dynamic search field will return all app cards that match the search term. Once the instructor reviews and decides on a tool, clicking the 'Add Tool' button will integrate the tool into the course in a matter of seconds. Change your mind? Just click 'Remove Tool' and it's gone as fast as it was added.
Post launch, the team is planning the next update to Canvas and is preparing a pilot with faculty to inform further development. Additional features being considered for the next release include:
Searching by tool category (e.g., course management, student analytics, assessment)
Multiple images of the tool's user interface
Extending use of CAE to other Canvas roles – assistant, designer, student
Instructors and course owners interested in using the apps can find detailed information in this Canvas App Explorer knowledge article.