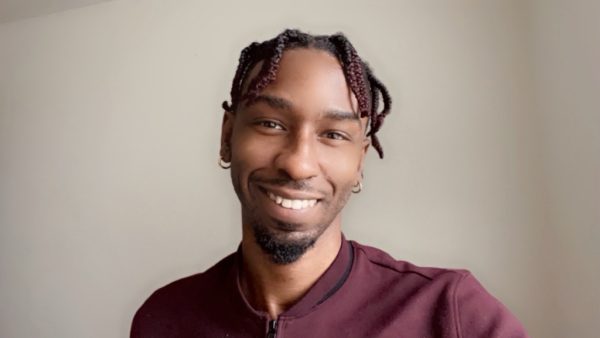 Doug Adams is the digital experience designer with Health Information Technology & Services (HITS). He joined Michigan Medicine as a contractor at the HITS Service Desk, and his passion for creative solutions quickly led to a full time position. With a background rooted in retail and customer service, Doug has learned to utilize empathy and design skills to improve the daily experience of those around him. He joined the HITS Customer Experience team in 2020 with a focus on improving the organization's web presence and user experience with simple, correct, and direct solutions.
Tell us about your role.
While working for the Service Desk, which included the HITS walk-up support offices known as Help Me Now, I identified common user experience frustrations that were noted both my coworkers and customers. That fueled me to create infographics and video tutorials that simplified complex workflows for both groups. Now as a member of the HITS Customer Experience team, I work closely with customers and technical teams to develop, deliver, and improve essential IT resources through user experience (U/X) research, analysis, and design.
What do you enjoy most about your job?
My favorite projects are designing websites or applications to allow for the best user engagement. I also enjoy using my multimedia design background to translate complex messaging into signage and screensavers, how-to guides, online request forms, virtual agent scripts, and videos. I've created more than 25 videos ranging from desktop setup guides to HITS award ceremonies.
What is the biggest challenge you face in your work?
Finding solutions for daily user issues is based around one common factor: understanding your customers. I conduct user research, compare and contrast existing systems, and learn as much as I can about our audiences. My understanding of HITS and what our customers need directly influences my goal of simple and beautiful interface design. No one is coming to our websites to see what's new. They need something. It's important that they can find it easily and quickly.
How do you adapt to the constant innovation in your field?
Honestly, the internet just naturally keeps me up-to-date. My curiosity is usually fed by the all-knowing algorithm. My YouTube feed knows I like Zelda music and tech news. I'm also an early adopter and often sign up for beta programs. It helps me stay aware of new solutions and technology trends.
Mac or PC? iPhone or Android?
I love all my "children"! But in all honesty, Apple is my daily driver and fits easier into my day-to-day workflow. I've been in the "walled garden" for some time and it just keeps getting higher with each new feature. That said, I believe it's important to know as many platforms as you can. I'm designing with multiple platforms in mind.
What motivates you?
Solving problems. The more problems we can tackle, preferably ahead of time, the fewer frustrations for our customers. Those add up, and burn out is real. I know how I feel when I have to call my internet provider—wary, anxious. I don't want our customers to dread contacting us. It's simple—a better user experience for HITS users results in a better experience for HITS customers as well as employees.
What do you do for fun?
Video games and traveling—both virtual and real life escapes. I think video games are the ultimate form of entertainment and art. You can get great acting, music, cinematography, and UX all in one immersive package. I personally love narrative-driven adventure games. Elden Ring has been my main pastime lately. George R.R. Martin wrote it and FromSoftware developed it.
Regarding travel, I'm on a mission to get out whenever I can. Even if it's just finding a new restaurant or visiting a far-away friend. Spending time with loved ones has become increasingly important to me this last year. My fiancé and I somehow managed to go on three vacations last year and I cherished every moment and memory made.