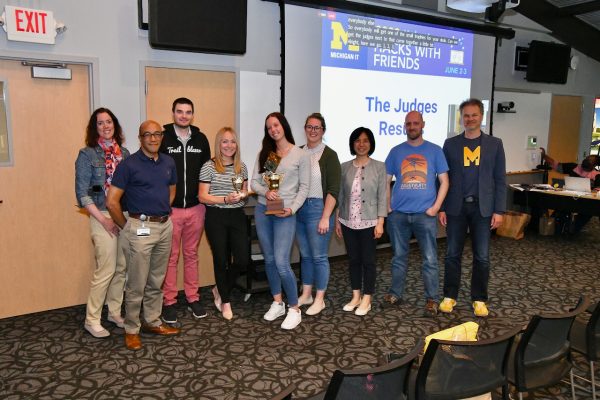 Fourteen teams of creative and technology-minded staff members from across U-M collaborated in person and online at the eighth annual Hacks With Friends (HWF). The event, which took place on June 2 and 3, 2022, was the first in-person Michigan IT event to take place since HWF 2020, which was held just prior to the pandemic.
After a warm welcome from co-chairs Joseph Lubomirski (UM-Dearborn) and Kenny Moore (ITS), the 14 pitch teams gathered in conference rooms across the Arbor Lakes building to solve real university challenges over a two-day period. More than 70% of the 117 total participants attended in person on both days of the event.
A little more than 24 hours after the kick-off, each team presented a three-minute presentation of their hack to be voted on by their peers and the public. The top four teams then delivered a 10-minute presentation to a panel of judges, who then awarded the first, second, and third place teams. The 2022 People's Choice award went to the team with the most votes from the public voting earlier in the day.
2022 Hacks with Friends Judges Awards
2022 Hacks with Friends People's Choice Award
2022 Hacks With Friends Judges
Carrie Shumaker, Chief Information Officer at UM-Dearborn
Nik Jackson, Director for Information Technology for the School of Public Health, UM-Ann Arbor
Andre Zoldan, Senior Director of Technology for the U-M Michigan Alumni Association
Following the event, Information and Technology Services identified sponsors for each of the 14 pitches, who are working with the pitch leaders to assess and support the ongoing development of the hacks, as appropriate. Six hacks are already moving forward, and six more have identified needs for further resourcing or investment.
Hacks with Friends is an annual hack event sponsored by the U-M office of the vice president for IT and CIO. Learn more about the event and watch the complete livestream on the Michigan IT website.