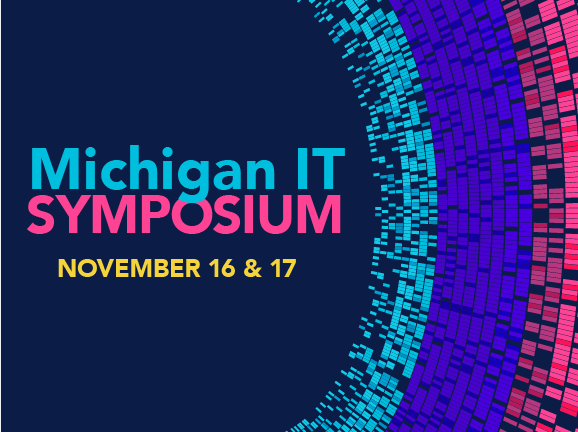 Join technology professionals across the Michigan IT community for the 2022 Michigan IT Symposium on November 16 and 17. This annual event creates connections between community members and showcases the innovation occurring across U-M's campuses.
This year's event will be focused on how technology helps shape the future of learning, research, and care. The event will be a hybrid one, with a virtual kick-off and poster session on November 16 and hybrid breakout sessions and networking at the Michigan League on November 17.
Call for Proposals
Proposal applications for Symposium are now open. Has your team solved a problem in an innovative way? Have your collaborations with students, faculty, or other colleagues resulted in positive impacts on teaching, research, or precision health and patient care? If so, we invite you to share your expertise and lessons learned.
Proposals should be submitted within the standard subject areas of research, teaching & learning, precision health & patient care, knowledge, administration, or Diversity, Equity and Inclusion (DEI) and fit into one of the following categories:
Digital Fluency for a Digital Future: Ensuring faculty have the digital fluency to provide creative, equitable, and innovative engagement for students.
Workforce Development: Enabling Next Generation of Leaders.
Blended Campus: Where virtual and in-person meet.
Cybersecurity & Privacy.
Submit your proposal application by Friday, August 12.
The Symposium will be co-chaired by Dush Fernando PhD, director of support services within the College of Literature, Science, and the Arts Technology Services; and Asmat Noori, Information Assurance Assistant Director within Information and Technology Services.
About the Michigan IT Symposium
The Michigan IT Symposium is sponsored by the office of the VPIT-CIO. The symposium is one of several activities organized by the Michigan IT Steering Committee to build community and encourage collaboration among U-M's 2,700 IT professionals. The 2022 Michigan IT Symposium will be the university's ninth event of this kind. See past events.