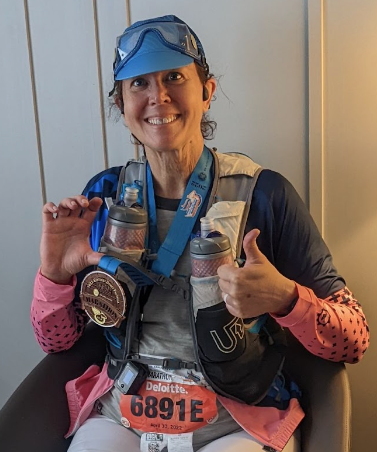 Tell us about your work.
Currently, I am working as a project manager in LSA Technology Services where we are developing project management capabilities across the organization. My team and I are working with other teams to provide insight into the larger efforts that we are doing as an organization and how the tools or project management can be applied. This is not just for large projects but also in daily operations.
In the last year, we have added a dashboard that shows how our projects align to our organizational strategic goals. This year we are introducing a prioritization process for the intake of new projects and work allocation to better manage our project portfolio and balance the workload for our staff engaged in those projects.
What was your career path?
I didn't start out thinking of a career in computing. I planned to be an engineer and even spent a summer in the Women in Science and Engineering (WISE) program at Michigan Tech.
I learned computers while being babysat by my older siblings at their colleges. I found the computer a useful tool because I have dyslexia and it was easier for me than any other learning I had done. As a result, I worked running computer labs from high school through graduate school to pay my way. I studied economics and never considered computing as a career, just for paying the bills.
I worked as an econometrician for a few years in capital budget forecasting leveraging my engineering studies. However, every job I had as an economist asked me to help out running computing because I had previous experience. My first job had me install their general ledger system.
When I came to U-M, I was working part-time as an econometrician and part-time as a Unix administrator. By my second U-M job, I realized I could focus on one thing if I switched back to computing. And then project management came up in my professional development work plan. I looked into certification, and everything just clicked as I realized I had done project management as I worked on various projects from installing a general ledger system to managing the technology installation in Weill Hall.
I am so grateful to all the mentors who came into my path and added organization skills to my geeky tech side to land me where I am.
What do you do for fun?
This one is tough to answer as right now I am on a slow recovery from some health setbacks. I am focusing on building back to what I used to be able to do easily. I am taking a break this summer from my usual yoga teaching and marathon running. I am working toward relaunching my dream of completing a marathon in all 50 U.S. states. I actually walked a marathon in the Kentucky Derby Marathon dressed as a jockey. It was my 40th state completing a marathon, and being dressed as a jockey made others laugh. Even when things are hard, I find that you can make it fun by adding a little whimsey to the mix.
What advice would you give to someone who is thinking about a project manager role?
Try it out! You can find all kinds of volunteer opportunities to run an event or objective to practice project management skills. The best part is by trying it, you incorporate one of the most essential skills of a project manager, learning lessons. You can adapt from those lessons the next time you run a project. If you don't know all the moving parts to a project, there are many online resources and groups to learn from. Shameless plug: Join the Michigan IT PM Community of Practice (Website, MCommunity Group, Slack: um-its-mi-it.slack.com channel: #cop-project-management)
What gives you the most satisfaction from the work that you do?
I love working with teams to help them get something done that supports our mission in a way that everyone embraces the change as a positive experience. When a project can have a positive impact, it makes the world a better place.
One of my favorite projects was helping some of our Web and Application Development Services (WADS) team support some student-facing units implement a chat service so they could do outreach with students in a way that worked for them. This is especially important during the pandemic. Currently, I am on a project with our research team that helps our faculty and graduate students to get the most out of the U-M Research Computing Program (UMRCP) program which offers no-cost allocations of HPC and storage. The UMRCP has a double impact in that researchers get free resources centrally and the program allows LSA to repurpose those funds to expand research support further.
Is there anything else you would like to add?
Many thanks goes to the wonderful collaboration and colleagues we have here to work with! We are so much better when we work together (punny I know). I truly appreciate the knowledge and willingness to work together to make positive change.