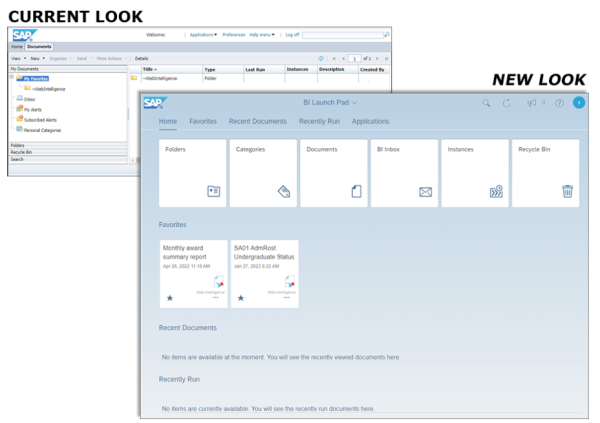 The SAP BusinessObjects reporting platform is a widely-used reporting tool that is available across all U-M campuses and Michigan Medicine. BusinessObjects connects to all of U-M's Enterprise Data Sets such as Human Resources (HR), Student, Financial, Dart, eResearch, and others.
The vendor-initiated upgrade that will take place from Saturday, October 15, 8 p.m. EDT, to Sunday, October 16, 2022, 7 a.m. EDT, during which the system will be unavailable. The version is upgrading from 4.2 SP7 to version 4.3 SP2, and there is no action required from the user at this time.
Benefits include improved architecture and updated technology that will provide a secure and better platform. This upgrade will also enhance the look and feel of the system interface for a better user experience.
The upgrade will continue to maintain and support all current reports, and personal and public folders. Any existing scheduled reports will continue to maintain their current schedule. While the process to access SAP BusinessObjects and request access to data sets in U-M Data Warehouse will remain the same, there are some notable changes with the upgrade:
BI Launch Pad — a redesigned entry point
Web Intelligence documents can be used as a data source for another document
New Instances tile provides for both viewing and managing scheduled reports.
No provision for Java applet mode
Hyperlinks created in cells can only be tested in 'Reading' mode, not 'Design' mode
To help prepare users for the change, the project team will send regular communications to key stakeholders. Users have the option to experience the BusinessObjects 4.3 sandbox testing environment.
SAP BusinessObjects users have the opportunity to attend webinars to learn about and prepare for the upgrade. Users are encouraged to register for the webinar. Open office hours and support is available pre-launch. Users can use the the office hours sign-up sheet for a time slot or just drop-in.
More details about the project and upgrade can be found on the SAP BusinessObjects project website. For further information, please reach out to the project team at BusinessObjectsUpgradeProject@umich.edu.